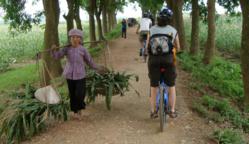 An increasing number of travelers are seeing bicycle tours as a unique and preferred way to see the world.
Chattanooga, TN (PRWEB) November 17, 2011
BikeToursDirect has named Natalie Roberson to the new position of director of marketing and added two tour specialists to support its expansion plans as the popularity of overseas bicycle tours continues to grow. Founded in 2003, BikeToursDirect focused until recently on tours offered by local bicycle tour companies in Europe, with more than 200 tours in 35 countries on its roster this year. By the end of 2012, the company will represent more than 75 local bicycle tour companies in 50 countries spanning all continents except Antarctica. More than 250 tours will be available next year through biketoursdirect.com.
"BikeToursDirect has seen consistent growth each year since we started in 2003 and reached more than $2 million in sales and 1,800 clients in 2011," says Jim Johnson, BikeToursDirect founder and president. "However, we still feel we're just scratching the surface in the overseas bicycle tour market. 'Soft adventure' tourism and 'slow travel' are booming, and increasing numbers of travelers are seeing bicycle tours as a unique and preferred way to see the world."
BikeToursDirect has added the new tour specialists as part of its commitment to prompt and personal customer service. They advise travelers in the planning process to help them match tours to their needs and interests.
"We feel customer service has been crucial to our success and growth, which is why nearly half of our business is either repeat clients or referrals," says Johnson. "When I hire staff, I look for people who share my passion for travel and who have a stark commitment to service and accuracy. After all, we're in the business of making people's dreams come true, and that's a big responsibility."
"One of the things that attracted me to BikeToursDirect is its focus on providing high-quality tours at a fraction of the cost of competitors," says Roberson. "The tours we offer are such a good value and allow people to explore the world within a very reasonable budget."
Roberson also shares BikeToursDirect's philosophy that authentic experiences with another culture can change your perspective on the world: "I believe you can't begin to know a place until you know its contours and its scents, something you can't get sitting in a bus, train or rental car. Meaningful travel often happens with chance encounters, like the farmer you meet on the side of the road, as you're checking your map. An hour later, you're leaving with a bag of freshly picked fruit—and memories of a new friend. Bike tours are a great way to get in the back corners of a destination and experience it on a more intimate level."
Unlike other American companies offering bike tours overseas, BikeToursDirect doesn't operate its own tours. It instead represents local operators around the world, who keep their tour prices down due to the lower cost of doing business close to home and to spreading their expenses over a large client base. Locally-based tour companies also offer other benefits: knowledge of the local culture and unique sights, frequent tour departures and ability to tailor tours to fit a client's specific interests. Clients book tours and make all payments through BikeToursDirect, usually at the same prices listed on the tour operators' websites.
"Many travelers can't afford high-end bicycle tours, and many don't want to plan self-contained tours," says Johnson. "And that puts BikeToursDirect in the unique and enviable position of offering tours that appeal to a significant market: people who want the security and convenience of organized programs but don't want to pay hundreds of dollars a day."
To support its expanded tour offerings and client bookings, BikeToursDirect will launch a new website in early December that will make it easier for travelers to research, choose, plan and book their overseas bicycle tour vacations.
"We feel the new website will have a dramatic impact on our sales growth, especially with an experienced director of marketing at the helm to manage all of our marketing platforms," says Johnson.
Prior to joining BikeToursDirect, Roberson was electronic marketing manager for a Fortune 250 insurance company and brings experience in email and online marketing. She worked as a freelance writer and marketing consultant for BikeToursDirect for several years and has lived and traveled extensively in Europe. She holds an M.B.A. from the University of Tennessee at Chattanooga and a B.A. in Corporate Communication from the College of Charleston.
About BikeToursDirect
Now in its ninth season, BikeToursDirect serves as a central resource for bicycle tours worldwide, expanding in 2012 to represent more than 75 local bicycle tour companies with over 250 tours in 50 countries spanning all continents except Antarctica. BikeToursDirect offers a variety of resources to help travelers choose tours and handles the entire booking and payment process. Learn more at http://www.biketoursdirect.com. Telephone: 1-877-462-2423 or 1-423-756-8907. Email: info(at)biketoursdirect(dot)com.
###