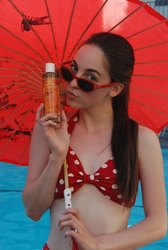 Tampa, Florida (PRWEB) June 4, 2009
Hollywood's hottest teen celebrities were decked out '50s style in LA this past Saturday, May 30th for Disney star Brittany Curran's 19th birthday party. Bringing back the nostalgia of an era gone by - American Bandstand, Elvis, polka-dot bikinis, Coca-Cola bottles and the birth of rock 'n' roll - Curran's retro-themed soiree drew a Who's Who list of Young Hollywood stars including Debby Ryan (Suite Life on Deck), Keana Texeira (who will star in upcoming teen vampire love story "Soulstice: The Luna Diaries"), Noah Cyrus (Miley Cyrus' younger sister), Emily Grace Reaves (Hannah Montana movie), Ana Maria Perez de Tagle (FAME, Camp Rock), Rachel Fox (Desperate Housewives), Kara Crane (Suite Life on Deck, Minuteman), and many others.
Most known for her role as Chelsea Brimmer on Disney's The Suite Life of Zack and Cody and The Suite Life on Deck, Curran also kicked off celebrations for her starring role in the film Legally Blondes, a sequel to 2001's Legally Blonde, which was instrumental in catapulting Reese Witherspoon to A-List status. Additionally, Curran just completed her first dramatic role in the feature film Uninvited and is set to play the character Lucy, Ray Romano's daughter in his brand new TV series, Men of a Certain Age.
Curran ensured all her guests received a VIP swag bag filled with summer essentials. Thanks to its ability for accelerating the tanning process while keeping the skin silky-smooth, Booty Butter Tanning Lotion by BikiniKitchen.com was sought out by Curran and her event planner Terri Tex of T2PR as the tanning lotion of choice. Said Curran, "I was thrilled to treat my guests to summer's best accessory - a luxurious, natural glow. Booty Butter was the perfect addition to my party's swag bags."
"No summer would be complete without the splendor of paradise you get when you're sporting a beautiful tan. With Booty Butter you will enjoy a gorgeous and natural tan faster than you ever have," said Karrie Pettit, co-founder of BikiniKitchen.com. "Brittany is talented, beautiful, and she is a positive role model for today's young generation. I was honored to have our tanning lotion specifically selected to participate in her birthday festivities."
Booty Butter Tanning Lotion contains 100 percent, all-natural ingredients from the islands of Hawaii. Thanks to its Kona coffee extract ingredient, which is grown exclusively in Hawaii and has long been a secret among Hawaiian locals, Booty Butter speeds up the tanning process. You will see a noticeable difference in your tan in about an hour. Plus, Kona coffee is also renowned for its ability to mend broken skin, soothe irritation and revitalize skin cells. Booty Butter's recipe also includes a perfect mix of Hawaiian Kukui Nut Oil, Macadamia Nut Oil and Aloe Vera to keep your skin moisturized - no dry skin or flakiness when you use Booty Butter.
About Bikini Kitchen
Founded in 2008 by Karrie Pettit and Chris Mueller, Bikini Kitchen is a Florida-based consumer product company dedicated to bringing new, innovative products to the marketplace for fun in the sun. For further information please visit http://www.bikinikitchen.com.
About T2Public Relations
T2Public Relations, headed by celebrity publicist Terri Tex, is a full service PR agency specializing in industry and product representation, event planning, artist/product launches, product placement, media relations, and branding. Based in Los Angeles, the company specializes in the teen/young adult market and demographic audience. T2PR can be reached at 310-463-9599.
###