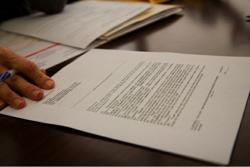 We expect to have approval for over 50 successful Defered Action Candidates by end of 2012. - Robin Bikkal
Westchester County, New York. (PRWEB) November 30, 2012
Robin Bikkal from her Westchester County New York office states, "attorneys can help navigate the process of filing the Deferred Action for Childhood Arrivals papework." Bikkal continues, "Tens of thousands of individuals are in deportation proceedings right now. These processes cost U.S. taxpayers millions of dollars annually, not to mention the immeasurable financial loss and suffering immigrant families undergo when members are deported. The unprecedented and much-lauded Deferred Action for Childhood Arrivals (DACA) policy announced by the Department of Homeland Security (DHS) in June 2012 will go a long way in ameliorating the costly and backlogged deportation system. By granting Deferred Action, the government effectively has, at its discretion, decided not take action to deport qualified individuals who entered the United States before the age of 16 and who meet other eligibility criteria."
DACA is available to qualifying individuals who arrived in the U.S. before the age of 16, have not been convicted of any serious crimes, and have graduated from high school or are currently attending school. In addition, applicants must have continually resided in the U.S. from June 15, 2007 until now and have been less than 31 years old as of June 15, 2012. In addition to providing documentary evidence to prove the above provisions, applicants must also pass a background check as required by the DACA regulations.
Applicants who are approved for DACA will not be prosecuted for deportation for a two-year renewal period. In addition, DACA recipients are granted a work permit that allows them to seek legal employment and apply for additional societal benefits like a Social Security card and sometimes a driver's license.
For those who have lived many years as undocumented immigrants the eligibility criteria for Deferred Action can be difficult to document. This is where legal counsel can help.
The benefits of speaking with an attorney about Deferred Action are numerous. Immigration attorneys are able to: 1) confirm a DACA applicant's eligibility; 2) assess whether an applicant may be eligible for any other more permanent immigration benefit such as a green card; 3) review documents, decide if they are sufficient evidence of the applicant's eligibility and assist with retrieving additional evidence if necessary to substantiate eligibility; 4) assess any potential pitfalls and analyze the effects of prior immigration issues or criminal histories on the application; 5) complete the application forms and organize the documentary evidence to showcase the client's eligibility and draft any necessary affidavits or memoranda of law to support the application, and 6) follow up with U.S. Customs and Immigration Services, answer applicants' additional questions and address any concerns that may arise after the submission of the application.
Parties interested in learning about their eligibility and who would like to inquire about applying may call either of Bikkal & Associates, P.C.'s offices at (914) 683-5300 where Spanish and English-speaking Associates are available.
"Bikkal and Associates has achieved a very high success rate for the nearly 100 Deferred Action applications we have filed. The firm expects to have 50 approvals before the end of the year," states Ms. Bikkal.
According to a study by the Integration Policy Center the benefits of Deferred Action can be far-reaching including potentially millions of increased legal work force, increased tax revenues, less suffering from families being broken or deported, increased education, increased documentation, path to increased language & social skills.
The ethical ramifications of this policy are simple... less money will be wasted on splitting up families and forcing the deportation of a child who entered and has remained in the U.S. without legal status through no fault of his or her own. Now upon approval of their application, Deferred Action recipients, who before had no hope of legal immigration status, may affordably live and work without fear of deportation and are acknowledged as valuable contributing members to American society.
About Us:
Bikkal and Associates Spanish Bilingual Immigration Attorneys Westchester County, New York.
Bikkal & Associates PC
170 Hamilton Ave. Suite 301
White Plains, NY 10601
Phone: 914-683-5300
Fax: 914-683-6240
117 North Main Street,
Port Chester, NY 10573
The law firm of Bikkal & Associates PC, represents clients throughout the New York City metropolitan area. We serve areas including the Bronx, Manhattan, White Plains, Brooklyn, Queens, New York, Staten Island, Rockland County, Dutchess County, Orange County, Putnam County, Westchester County and more.
Press Releases and Internet Presence Management Services Provided by Image Forward http://www.ImageForward.com
###