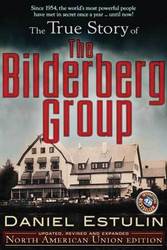 Danny's stories and investigations should make a gripping tale.
Walterville (Vocus) May 23, 2009
TrineDay is pleased to make known that The Halcyon Company is bringing Daniel Estulin's international bestseller ''The True Story of the Bilderberg Group'' to the big screen. The announcement is scheduled for Friday, May 29 in Spain, the abode of the author.
"This has been under wraps for some time. We are glad the news it out," said Kris Millegan, Estulin's US publisher. "Danny's stories and investigations should make a gripping tale." The Halycon Group is making the announcement while in Madrid for the European premiere of the film "Terminator Salvation," a continuation of the Terminator mega-franchise, which helped to define current California Governor Arnold Schwartzenegger's movie career.
''The True Story of the Bilderberg Group--North American Union Edition'' has been TrineDay's most successful book to date. This second edition has sold out its first printing of 10,000 copies in less than three months, with total sales reaching over 50,000 units. TrineDay is a micro-publisher based in Walterville, Oregon, producing suppressed works that present inconvenient history. TrineDay has published over twenty books since its founding in 2000. Secret societies, intelligence agencies, the drug trade, assassinations and such are the main subjects of the firm's books.
Publisher Kris Millegan, son of a high-ranking recalcitrant CIA official, began the venture on borrowed money, when a writer-friend explained his inability to get his book in print because of its "spooky" overtones. Millegan declared that he had a computer on his desk and had been told he could produce a book with it, and a company was born. TrineDay has survived the rigors of the book business, and defended its ability to publish controversial truths by defeating an attempt to declare one of TrineDay's books as fiction in Federal District Court.
TrineDay is very happy to be part of the process that has brought Daniel Estulin's investigations and revelations to a wider audience.
Here is the media release from Halcyon:
WHAT:
Victor Kubicek and Derek Anderson Co-CEOs of The Halcyon Company invite you to a press conference to announce that: The Halcyon Company is taking Daniel Estulin's award winning novel ''The True Story of the Bilderberg Group'' to the big screen
WHEN:
1600hrs, Friday May 29th 2009
WHERE:
The Westin Palace Hotel,
Plaza de las Cortes 7,
Madrid 28014,
Tel: (34) (91) 3608000
To confirm your attendance and for further details please contact:
DDA PR (+44 207 932 9800)
Iram Ahmed
Aimee Anderson
WHO:
The Halcyon Company is a privately financed, media development, production and financing company, headed by co-CEOs Derek Anderson and Victor Kubicek. The company is designed to create, acquire, manage, publish and maintain the creative integrity of each and every project delivered by The Halcyon Company across traditional and non-traditional channels of distribution. In May 2007, Halcyon acquired all of the rights in relationship to the Terminator franchise. These rights include the right to produce any future Terminator films, as well as all future merchandising and licensing rights, certain future revenues derived from ''Terminator 3: Rise of the Machines,'' as well as certain rights in the television project ''The Sarah Connor Chronicles'' and the sole right to produce all future Terminator projects in any new or existing media. In 2009, Warner Bros. will distribute the highly anticipated re-launch of the franchise, ''Terminator Salvation.'' Halcyon secured the highly-coveted first-look rights to the works of science fiction and cyber-punk writer Philip K. Dick. Through this unprecedented agreement, Halcyon will have the first option to develop in conjunction with Electric Shepherd for film adaptations, as well as television and other media projects, based on Dick¹s vast body of works. Halcyon recently signed biographer and long time Vanity Fair writer Bob Colacello to an exclusive agreement wherein Halcyon will have first look and option to produce all of Colacello's work into film that could take the form of feature films or television mini series.
DANIEL ESTULIN
Daniel Estulin is an award-winning investigative journalist and has been researching the Bilderberg Group for more than 14 years. He is also the host of two radio shows in Spain.
Daniel Estulin´s first book, ''The True Story of the Bilderberg Group'' has become a global phenomenon. Amongst more than 500 articles on the book in the world´s press, stand-outs are the cover story in Rolling Stone Magazine Spain, Maxim Spain and High Times USA.
The book´s sales figures and overall ranking speak for themselves. ''The True Story of the Bilderberg Group'' made it into the top-10 nonfiction and top-50 general rankings at amazon.com, surpassing such icons as Thomas Friedman, Naomi Klein, John Perkins and Jimmy Carter, and staying in the top-1000 for one full year. The new, North American Union edition of his book was #4 ranked, an amazing on Amazon´s hottest new releases list published on April 3, 2009.
His appearance on George Noory's popular radio show Coast to Coast drew over 30 million listeners, making it one of the highest rated show in the program's history.
For more info about TrineDay contact:
Kris Millegan or Kent Goodman at publicity(at)trineday.net or 1.800.556.2012.
URLs:
http://www.BilderbergBook.com
http://www.TrineDay.com
http://www.DanielEstulin.com
###