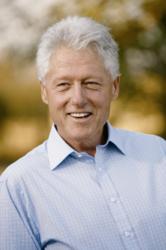 President Clinton is an unparalleled arbiter of economic success and progress
London (PRWEB UK) 18 October 2012
Two decades after he led America during an economic boom, the hugely popular former President still draws massive crowds every time he approaches the stage.
"President Clinton is an unparalleled arbiter of economic success and progress", said Neera Tanden, the President of the Center for American Progress.
Following his recent speech at the Democratic National Convention, many have considered the impact and weight of his presentation to be potentially decisive, and it wouldn't be the first time.
Having left the U.S. presidential office with the highest approval rating of any president since the Second World War, his unique ability to influence audiences across the globe has seen him accept various roles such as being named as the United Nations Special Envoy to Haiti in 2009, and delivering the keynote address for the inauguration of NTR, Ireland's first environmental foundation.
What seems to set President Clinton apart from many prominent world leaders at this time, as well as from previous generations, is his ability to explain extremely complex issues in very simple and easy-to-understand ways. He never seems to lose the attention of his captive audience, with a continual balance of fact and humour, all delivered with unbreakable confidence.
In November, at the Entrepreneurs 2012 Conference in London, you will have the chance to hear him deliver another of his incredible speeches in person. There are a limited number of tickets which have been released for this conference at a significant discount. The discounted tickets are available only from Blue Square Deals, a UK business deals company – alternatively, you can purchase them at full price from the Entrepreneurs 2012 website