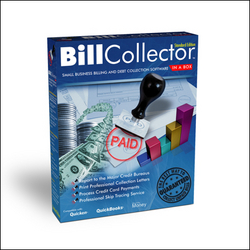 We designed Bill Collector In A Box so that small-business owners can take the right steps to resolve past-due accounts, and turn debts into revenue.
Indian Wells, Calif. (Vocus) October 25, 2007
Bill Collector In A Box, the only PC software that puts expert bill collection strategies and techniques at the fingertips of businesses and entrepreneurs, now includes the ability for businesses of all sizes to report a writer of bad checks to the same central bureau used by major retailers, giving that person a major incentive to settle past-due invoices. The SCAN (Shared Check Authorization Network) report feature built into the latest version of Bill Collector In A Box means that a business owner can exert significant control over a customer that has written an NSF check (non-sufficient funds) or other type of returned check, and is unwilling to pay the amount owed plus bank fees. This is one of the many collection features included with the software.
SCAN is used by banking institutions and thousands of major retailers, including Home Depot, Nordstrom, Sears, Target and Wal-Mart, to screen out writers of bad checks. When a person who has been reported to SCAN presents a check or tries to open a bank account at over 71,000 locations, he or she is handed a denial card and asked to contact SCAN. SCAN then directs the customer to the merchant that reported the bad check, who can collect the payment and, with one click in the new Bill Collector In A Box software package, remove the customer from the SCAN database.
Bill Collector In A Box centralizes the management of past-due accounts, from initial contact to resolution of the outstanding invoice. The latest version, now available at Fry's Electronics, Office Depot, and Micro Center, includes other new features to make the task of tracking past-due invoices and collections less time-consuming and more effective:

Automatic printing of professional-quality legal letters that provide a debtor with warning about impending legal action. The software also includes a wide variety of debt-collection letters that comply with state and federal laws.
Court information recording that provides an easy way to store details of litigation or small-claims actions.
Other features built into the software enable business owners to easily perform and manage all of the typical phases of debt collection:

Credit bureau reporting. Reporting a bad debt to a credit bureau is an effective way to convince debtors that they need to quickly settle their invoices. With one click, Bill Collector In A Box reports a bad debt to the major credit bureaus for up to 7 years.
Skip Tracing. If a debtor has left town with no forwarding address and has disconnected phones, one click instructs Bill Collector In A Box to engage a professional investigator who will track down the debtor. 25 basic skip traces and 1 advanced skip trace are included with the software.
Processing of credit card and ACH transactions (through PPI Inc.) to enable fast settlement of invoices.
Comprehensive report generation as well as importing and exporting of .CSV files to/from popular accounting software programs.
Bill Collector In A Box runs on Windows PCs and complements popular accounting and personal-finance software such as Quicken®, QuickBooks®, Microsoft® Money and Microsoft® Accounting Professional.
"Small business owners frequently deal with chronic late payment and bad debt issues, and this costs their business time and money," said Ryon Gambill, president and CEO of Marauder Corp. and a collections professional. "We designed Bill Collector In A Box so that small-business owners can take the right steps to resolve past-due accounts, and turn debts into revenue."
Bill Collector In A Box lists for $99 and is available at Amazon.com, Fry's Electronics, J&R Electronics, Micro Center, OfficeDepot.com, PCnation.com, and Shopblt.com. Unlimited technical support, including an initial familiarization walk-through of the software, is included.
Note to editors
Contact Tim Cox (tim @ zingpr.com) for review copies, box photos/images and screen shots.
About Marauder
Marauder Corporation designed and developed Bill Collector In A Box for small to medium-sized businesses. Marauder is one of the nation's leading collections agencies and specializes in small and medium-sized businesses. Its management team has more than 50 years of combined experience and services the collection needs of thousands and companies, coast to coast. For more information, visit http://www.billcollectorinabox.com or call 1-800-650-5118.
Media contact: Tim Cox, Zing Public Relations, +1650-369-7784, tim @ zingpr.com
###