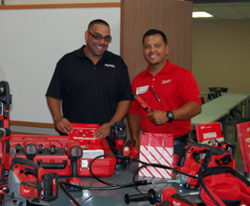 'The investments Milwaukee has made will strengthen our Training Program and help the next generation of apprentices launch their careers...' - Tina Howe
San Diego, CA (PRWEB) September 25, 2013
Bill Howe Plumbing, Inc. is one of the largest family-owned and operated service and repair companies in San Diego. Plumbers working for Bill Howe have been proud to be a part of the Local Plumbing-Heating-Cooling-Contractors of San Diego (PHCC-SD) since 1985. They have steadily grown since opening their doors adding divisions in restoration and flood and heating and air conditioning repair. Tina Howe is looking forward to opening a San Diego HVAC training program, much like the plumbing apprentice program, through the organization in 2013.
Milwaukee Electric Tool Corporation supports San Diego plumbers through donations of tools made to the PHCC-SD Apprenticeship Training Program. Milwaukee's commitment, professionalism and drive have elevated the PHCC to a higher standard and have strengthened a partnership with PHCC members and students. Milwaukee Tools' continued support and donations have repeatedly played a key role in the success of the PHCC-SD's Plumbing Apprenticeship Training Program. These donations allow the PHCC to develop a truly contemporary hands-on learning environment for the next generation of plumbing technicians, many of whom choose to devote their professional lives to improving Southern California.
Armando Garcia, Milwaukee Electric Tools Job Site Solutions Market Manager, understands that educated and professional workers are in high demand in the plumbing industry. Armando is committed to supporting programs that provide valuable opportunities for youth to realize their potential to succeed. The PHCC course combines classroom instruction with on-the-job training. This method of education allows individuals to combine real life experiences with applied knowledge. Apprentices are employed by contractor sponsors who provide on-the-job guidance under the supervision of their journeymen or foremen. Each apprentice has their work experience recorded and filed in the student's records. San Diego HVAC training programs are virtually non-existent, and the PHCC-SD is working hard to unveil a similar training school for this industry.
"The investments Milwaukee has made will strengthen our Training Program and help the next generation of apprentices launch their careers," said Tina Howe, PHCC-SD President. "This program supported by Milwaukee Electric Tools, is a way to ensure that San Diego continues to produce skilled and educated workers. Milwaukee is there from the first day our students walk through the door to embark on a new career through their graduation as Journey level plumbers and all future endeavors."
For more information about the San Diego plumbers at Bill Howe Plumbing, Inc., visit http://www.billhowe.com, or to speak with Bill or Tina Howe regarding this announcement, contact Bill Howe Marketing Director, Julie Riddle at Julie(at)billhowe(dot)com.
About Bill Howe Family of Companies
Bill Howe Family of Companies is comprised of Bill Howe Plumbing, Inc.; Bill Howe Heating & Air Conditioning, Inc.; Bill Howe Restoration & Flood Services, Inc. The family-owned and operated company began in 1980 with the plumbing division and has grown into San Diego County's largest low-cost one-stop-shop for service, repairs and installation, offering both residential and commercial services. 9085 Aero Drive, Suite B, San Diego CA 92123. Call 1-800-BILL-HOWE because We Know Howe.
###