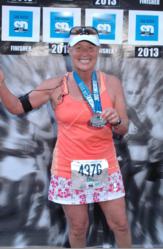 Spending an entire year without it [running] was a challenge, and even though I still had one more surgery to go, I did not want to miss my favorite half-marathon in San Diego. - Tina Howe
San Diego, CA (PRWEB) April 24, 2013
The Bill Howe Family of Companies has been promoting and advocating healthy lifestyles for many years. In a high stress and labor-intensive industry, Tina Howe knows how important it is to maintain a healthy balance between work and a healthy lifestyle. Bill Howe Plumbing has generously supported the American Heart Association for the past three years and the company as a whole regularly participates in sponsored walks and activities, including monthly volunteering at the San Diego Food Bank.
In April 2012, Tina Howe, avid marathoner, broke her ankle. Doctors told her that she would not run in another marathon. The unwelcome news would mean not completing her personal running goals. Currently, she has run a marathon on every continent and plans to complete a marathon in each state. She has successfully run in 27 states to date. Although she is laser-focused on her business in plumbing, San Diego CA offers many beautiful opportunities for runners. Tina Howe would not let these pass her by, as she is no stranger to hard work and perseverance. Coming to America from rural England, she had to endure a hard road to her current position. She has also managed a family as well as helping to grow the local plumbing company successfully.
In March, Tina had one remaining surgery to go, but wanted to participate in the San Diego Half-Marathon that would preempt the surgery. Never one to let anything get in her way, she ran anyway finishing with a better than anticipated time. "I can't imagine not being able to run," Said Tina Howe, Vice President of the local San Diego Heating and Air Conditioning Company. "Spending an entire year without it was a challenge, and even though I still had one more surgery to go, I did not want to miss my favorite half-marathon in San Diego. I am excited to get back to a regimen and include it in our company's plan for wellness this year."
April of 2013 also marks the rebirth of Bill Howe Plumbing's Wellness program. Although they have always had in place an active focus on health, the San Diego heating and air conditioning, plumbing and restoration company plans to weave well-being into all daily operations taking care of their human capital. Tina Howe is a prime candidate to instill a healthy lifestyle initiative into the culture at Bill Howe as an advocate of health and fitness. Enlisting professionals to help run the Bill Howe Wellness, Bill and Tina Howe prove once again how they continue to strengthen the industry and provide opportunities to their extended family-the employees that make up an all-star team.
Enlisting a professional company, BARR Wellness, Bill Howe Plumbing is setting the standard of health in their industry. Tina is sharing her devotion to active healthy living with the 119 employees in all divisions, office, heating and air conditioning, and restoration and flood services and plumbing. San Diego, CA sets the standard for healthy living and Bill Howe Plumbing sets the standard for the service industry; it is a perfect marriage for Tina and Bill Howe Plumbing to bring their trade and company practices for employees' well-being to a new level of excellence.
For more information about the Bill Howe Family of Companies, visit http://www.billhowe.com.
About Bill Howe Family of Companies
Bill Howe Family of Companies is comprised of Bill Howe Plumbing, Inc.; Bill Howe Heating & Air Conditioning, Inc.; Bill Howe Restoration & Flood Services, Inc. The family-owned and operated company began in 1980 with the plumbing division and has grown into San Diego County's largest low-cost one-stop-shop for service, repairs and installation, offering both residential and commercial services. 9085 Aero Drive, Suite B, San Diego CA 92123. Call 1-800-BILL-HOWE because We Know Howe!