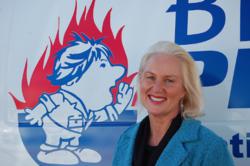 I was simply honored to be among such an amazing group of women. - Tina Howe
San Diego, CA (PRWEB) April 30, 2013
At the 13th annual Tribute to Women & Industry (TWIN) Awards ceremony on Thursday April 25, 2013, Tina Howe was recognized as an honoree for her contributions and achievements as a leading woman in her industry. Tina is the Vice President and Chief Financial Officer for Bill Howe Plumbing's three divisions, including plumbing, restoration and flood services and air conditioning. San Diego communities have long supported the local company as they have grown and in return, Bill Howe Plumbing has implemented strategic programs designed to help the community and strengthen their industry.
TWIN is a national YWCA program purposed to honor exceptional women who have made significant contributions to their community as well as the organizations that have provided the opportunities for women to achieve their potential. In addition to the recognition of San Diego's leaders in industry, TWIN raises necessary funds to continue the invaluable programs the YWCA offers to support survivors of domestic violence and homelessness.
At this year's TWIN ceremony, Viola Davis, Academy Award Nominated actor for her role in "The Help," was the keynote speaker and gave her testimony of living in fear, shame and abject poverty during her lifetime. She spoke of the struggle and determination to "get out." It was an inspiring story, touching everyone in the room.
Tina Howe can understand the desire to remove oneself from their life in order to grow and succeed. Growing up in rural England afforded her few opportunities for success beyond marriage. Wanting more, she took a great leap and moved to America determined to make her own success, which she found with a local San Diego plumber's company, that under her leadership and through her drive has grown into the multi-million dollar Bill Howe Family of Companies, also employing three of her daughters in leadership roles. She has been paramount in the company's regular sponsorship of programs that allow for at-risk youth the opportunity to explore roles in the trade industry, and has lately extended these programs to returning veterans in need of a new career path.
"I was simply honored to be among such an amazing group of women," said Tina Howe, Vice President of Bill Howe Plumbing, Inc. "I am also proud that three of my daughters have grown up to be driven role models for their peers. We are able to empower and strengthen each other and improve our industry providing opportunity and support for our community as well."
Tina Howe has been promoting and giving back to the community for many years. With a growing volunteer team at Bill Howe Plumbing, Tina volunteers at the San Diego Food Bank once a month, actively involves herself in local community programs and has been a proud sponsor for the American Heart Association of San Diego for the past three years, and has already signed on for the 2014 and 2015 year.
In the upcoming year, Tina Howe will also take on the additional volunteer role as President of the Plumbing-Heating-Cooling-Contractor's Association, San Diego Division. Seeking the continued strengthening of the san Diego plumber's industry and providing community support and outreach programs, Tina is dedicated to lifting those around her and continuing her "pay-it-forward" spirit.
For more information about the San Diego Plumber's dedication to continued growth and excellence, visit http://www.billhowe.com.
About Bill Howe Family of Companies
Bill Howe Family of Companies is comprised of Bill Howe Plumbing, Inc.; Bill Howe Heating & Air Conditioning, Inc.; Bill Howe Restoration & Flood Services, Inc. The family-owned and operated company began in 1980 with the plumbing division and has grown into San Diego County's largest low-cost one-stop-shop for service, repairs and installation, offering both residential and commercial services. 9085 Aero Drive, Suite B, San Diego CA 92123. Call 1-800-BILL-HOWE