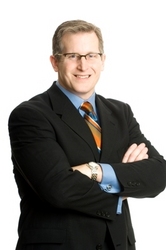 Since joining the executive team as chief marketing officer four years ago, Bill has proven to be a visionary leader who has helped propel our growth. I'm confident he will provide even more depth to the executive management team in his expanded role
Lanham, MD (PRWEB) November 4, 2010
Vocus, Inc. (NASDAQ: VOCS), a leading provider of on-demand marketing and PR software, announced today the promotion of Bill Wagner to executive vice president (EVP) and chief operating officer (COO). In this new role Wagner will continue to report to Vocus Chairman and CEO, Rick Rudman, and will be responsible for the company's day-to-day global operations in sales, service and marketing, with a primary focus on executing the company's growth strategy in the United States, Europe and China.
"Vocus has experienced tremendous growth over the past 10 years. We now have over 30,000 customers and close to 700 employees operating in the U.S, U.K., France, Germany and China. In order to support our continued growth and success, along with our expansion beyond PR software into cloud-based marketing, social media and PR, we are promoting Bill into the newly created position of EVP and COO," said Rick Rudman, Chairman, president and CEO of Vocus. "Since joining the executive team as chief marketing officer four years ago, Bill has proven to be a visionary leader who has helped propel our growth. I'm confident he will provide even more depth to the executive management team in his expanded role."
Vocus sells on-demand software that helps organizations of all sizes earn media exposure and visibility, expand their network of influencers, and listen and engage with consumers and journalists across the social web. With the highly successful introduction of its social media monitoring product earlier this year, Vocus has begun to extend its value proposition more deeply into marketing departments of all sizes.
Prior to joining Vocus in 2006, Wagner spent six years as chief marketing officer at Fiberlink, a provider of enterprise mobility and security software. Wagner also spent 11 years at AT&T in a variety of sales and marketing roles. Wagner received his Bachelor of Arts from Lafayette College and has a Master of Business Administration from The Wharton School at the University of Pennsylvania.
"It's really an exciting time at Vocus as our on-demand suite helps companies take advantage of the rapidly expanding earned marketing and social media space," said Wagner. "I look forward to contributing to the continued growth and success of Vocus in my new and expanded role."
In related news, Vocus also announced today the promotion of Vocus Chief Financial Officer Steve Vintz to the position of executive vice president and chief financial officer. His responsibilities, which include oversight of financial, legal, HR and administrative areas, will remain unchanged.
About Vocus
Vocus, Inc. (NASDAQ: VOCS) is a leading provider of on-demand marketing and PR software. Our web-based software suite helps organizations of all sizes to fundamentally change the way they communicate with both the media and the public, optimizing their visibility and increasing their ability to measure its impact. Our on-demand software addresses the critical functions of earned marketing including media relations, news distribution, news monitoring and social media. We deliver our solutions over the Internet using a secure, scalable application and system architecture, which allows our customers to eliminate expensive up-front hardware and software costs and to quickly deploy and adopt our on-demand software. Vocus is used by more than 30,000 organizations worldwide and is available in seven languages. Vocus is based in Lanham, MD with offices in North America, Europe and Asia. For more information, please visit http://www.vocus.com or call (800) 345-5572.
This release contains "forward-looking" statements that are made pursuant to the Safe Harbor provisions of the Private Securities Litigation Reform Act of 1995. These are statements that are predictive in nature, that depend upon or refer to future events or conditions, or that include words such as "may," "will," "expects," "projects," "anticipates," "estimates," "believes," "intends," "plans," "should," "seeks," and similar expressions. This press release contains forward-looking statements relating to, among other things, Vocus' expectations and assumptions concerning future financial performance. Forward-looking statements involve known and unknown risks and uncertainties that may cause actual future results to differ materially from those projected or contemplated in the forward-looking statements. Forward-looking statements may be significantly impacted by certain risks and uncertainties described in Vocus' filings with the Securities and Exchange Commission.
The risks and uncertainties referred to above include, but are not limited to, risks associated with possible fluctuations in our operating results and rate of growth, our history of operating losses, interruptions or delays in our service or our Web hosting, our business model, breach of our security measures, the emerging market in which we operate, our relatively limited operating history, our ability to hire, retain and motivate our employees and manage our growth, competition, our ability to continue to release and gain customer acceptance of new and improved versions of our service, successful customer deployment and utilization of our services, fluctuations in the number of shares outstanding, our ability to integrate acquisitions, foreign currency exchange rates and interest rates.
###