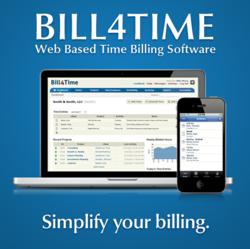 Your program is the best in the business. Your support, both in answering questions and webinars, is fantastic. I definitely recommend Bill4Time to my colleagues.
Bellevue, WA (PRWEB) July 14, 2011
Today Bill4Time, the time tracking and invoicing software proven to help professionals improve the way the run their business, announced its new Affiliate Program. The Bill4Time Affiliate Program is designed for people who love Bill4Time's time and expense tracking, project management and invoicing and want to help colleagues and friends enjoy the many benefits as well. Typical affiliates include lawyers, litigation assistants, accountants, independent contractors, consultants, associates, blog writers and software reviewers.
How it works:

Anyone can sign-up and generate a custom tracking link.
Affiliates then promote Bill4Time through any channel, such as email, SEO, PPC marketing, newsletters, blogs or advertisements.
Affiliates earn 40% from referred Bill4Time paid subscriptions, for up to 3 years.
No cost: It is free to be a Bill4Time affiliate.
Hassle-Free: Bill4Time's Affiliate Program is fully managed in-house, which guarantees affiliates timely payouts, reliable customer service, creative content and much more.
"With Bill4Time's Affiliate Program, we're inviting more professionals to get to know Bill4Time with a win-win offer," said Jeremy Diviney, Head of Operations at Bill4Time. "Our affiliate program offers an enticing incentive and a great business opportunity for happy customers and affiliate marketers."
About Bill4Time
Developed with the guidance of law and consulting firms, Bill4Time is a leading web-based time billing software serving both small and large professional service firms. With offices in New York, NY; and Bellevue, WA, Bill4Time has created simple-to-use and intuitive software at a fraction of the cost of other billing systems. With strong focus on convenience, Bill4Time offers anytime, anywhere online account access, mobile apps and a desktop widget. Bill4Time's goal is to streamline the time tracking and billing aspect of business so professionals can focus more on what they do best.
At Broadway Billing Systems, we pride ourselves on our close relationships with our customers, whose direct feedback helps to shape the direction of enhancements and features. We strive to provide quality software backed by knowledgeable and responsive customer support.
For more information on joining the Bill4Time Affiliate Program, visit us at http://www.Bill4Time.com.
###