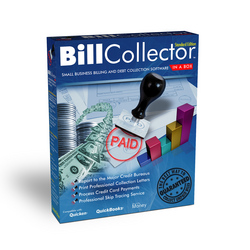 This is a great way to transform financial frustration into charitable donation.
Indian Wells, Calif. (Vocus) January 8, 2008
The 'season of giving' is now behind us — typically the time of year when charities benefit most from public generosity. This year, however, with charitable donations substantially down from previous years, the financial picture is looking bleak for thousands of local and national charities. To combat the problem, Ryon Gambill, has just launched a program to help cash-strapped charities by letting businesses donate their past-due invoices to a charity of their choice. Gambill is well-positioned to do this because his company, Bill Collector In A Box™, helps businesses collect on unpaid debts.
"Right now, thousands of businesses are closing their books for 2007 and deliberating on how best to handle invoices that are way past due. Rather than just writing them off as bad debt and filing them away, why not instead put the unpaid debt to good use?" says Gambill, founder of Bill Collector In A Box and a professional collection agent. "This is a win for everyone concerned. If thousands of companies and entrepreneurs sign up for this program then we can make 2008 a much better year for many charities."
Participation in the program is simple. To sign up, a business owner or accounting professional visits http://www.BillCollectorInABox.com to download a simple form — one form is filled out for each overdue account that is being donated. Once the account is donated, Bill Collector In A Box takes over and begins collection action to recover the money owed. As an added bonus, all contributors will receive a free copy of Bill Collector In A Box ($99 dollar value) for their future collection needs.
Upon successful collection of the donated account, a statement is generated and mailed to the contributor to confirm the cash value of their donation. At the same time, a donation check in the contributor company's name for the amount collected (less collection costs) is remitted to the selected charity. The charity then mails a tax-deductible donation receipt for the cash contribution to the contributor.
Bill Collector In A Box will be publishing a running total of all monies successfully recovered and donated to charity at http://www.billcollectorinabox.com/donate_a_debt.html.
"Small-business owners frequently deal with chronic late payment and bad-debt issues, costing their business time and money," says Gambill. "This is a great way to transform financial frustration into charitable donation."
Bill Collector In A Box retails for $99 and is available at Amazon.com, J&R Electronics, Micro Center, Office Depot, PCnation.com, Shopblt.com, and other retailers. Unlimited technical support, including an initial familiarization walk-through of the software, is included.
About Marauder
Marauder Corporation designed and developed Bill Collector In A Box for small to medium-sized businesses. Marauder is one of the nation's leading collection agencies. Its management team has more than 50 years of combined experience and services the collection needs of thousands of companies, coast to coast. For more information, visit http://www.billcollectorinabox.com or call 1-800-650-5118.
Media contact: Tim Cox, ZingPR, +1650-369-7784, tim@zingpr.com
###