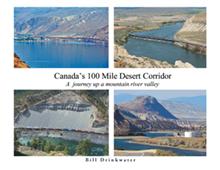 (PRWEB) April 08, 2013
They say a picture is worth a thousand words. Author Bill Drinkwater clearly gives justice to that quote as he uncovers his publication, Canada's 100 Mile Desert Corridor, a collection of photographs and paintings with entertaining captions of an area that he dearly loves.
Ashcroft, B.C. is on both sides of the Thompson River Valley. The river valley serves as the passageway for both national railways - the Canadian Pacific Railroad (CPR), and the Canadian National Railroad (CNR). It has a desert climate that cannot support trees because of the lack of moisture, but can support sage brush, spear grass, cactus, mosses, as well as a host of other desert plants.
Drinkwater shares his journey through what he terms as the "desert corridor" by creating this picture book. It is a story of a man who knows the 100 mile-long valley really well. He treats the valley like a gardener would show his garden. He adds personal touches like including the unexpected meet-up with a young lady who's also hiking and finding a fascinating variety of animals and birds. The paintings and photographs are impressive with the sharp colors and appealing angles. He also sets the mood in a piquant way with an imaginative interpretation that appeals to the senses.
The book offers a memorable trip up the mountain river valley. It is meant for light reading, something that invites a person to take a break, sit down and enjoy a refreshing exploration of nature without having to leave the seat.
Canada's 100 Mile Desert Corridor is truly a captivating book that lets readers see in fresh eyes how fabulous the desert corridor is and makes them feel like they are part of the author's fascinating journey.
For more information on this book, interested parties may log on to http://www.Xlibris.com.
About the Author
Bill Drinkwater is 84 years old and still very active. He curls in the winter, gardens and hikes every summer, paints and makes his own frames. He has a BA degree in Anthropology from the University of Washington in 1950, and a degree in teaching from the province of British Columbia in 1952. He taught high school mathematics for 23 years and farmed orchards and vineyards for 25 years. After he sold the farm it should be retirement but he likes mountains and has a penchant for hiking on both sides of the river, a hobby that later lead him to take pictures of the scenery. Thousands of pictures later he decided to show people this beautiful mountain valley. So at 80 years of age he decided to write a book.
Canada's 100 Mile Desert Corridor * by Bill Drinkwater
A journey up a mountain river valley
Publication Date: February 14, 2013
Picture Book; $106.99; 284 pages; 978-1-4797-5986-6
Picture Book Hardcover; $109.49; 284 pages; 978-1-4797-5987-3
Ebook; $3.99; 978-1-4797-5988-0