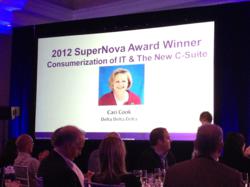 Troy, MI (PRWEB) November 15, 2012
Billhighway, foremost provider of cloud-based accounting solutions for nonprofit organizations, announces that its nonprofit client Delta Delta Delta (Tri Delta) has been selected as a national 2012 SuperNova Award Winner.
Sponsored annually by Constellation Research business analysts, the SuperNova Awards recognize leaders who fearlessly pursue implementation and adoption of disruptive technologies within their organizations.
According to Constellation Research, meaningful adoption and development of new technologies is no easy task. An esteemed group of award judges selected semifinalists as leaders in the adoption of disruptive technologies as the lifeblood of corporate innovation and efficiency. Semifinalists were then chosen as national winners based on votes of the business community.
The national accolade recognizes the achievements of Tri Delta's leadership team, led by Executive Director Cari Cook, after improving internal processes associated with billings, payments, accounting and more.
With Billhighway as the standardized solution across the country, the Tri Delta team measurably improved virtually all areas that define success for a nonprofit: revenue, cash flow, collections, recruitment, fundraising and charitable donations.
With revenue that has increased 49 percent since launching the Billhighway platform, Tri Delta has redeployed more funds to chapters and charitable causes such as St. Jude Children's Research Hospital. Tri Delta has been able to redeploy 600 percent more funds toward such efforts.
"Our partners at Tri Delta are exceptional examples of an organization that leverages technology to more efficiently operate and fuel their mission," notes Vincent Thomas, Founder and CEO of Billhighway. "Our entire team extends our congratulations to Tri Delta for this important recognition honoring the impressive results they've achieved since streamlining accounting and internal operations."
About Tri Delta: Founded in 1888, Tri Delta is a leader among social Greek organizations through its passion for progress and visionary thinking. Through partnerships with nationally recognized organizations like St. Jude Children's Research Hospital, award-winning publications like The Trident and innovative collegiate and alumnae initiatives, Tri Delta is committed to leveraging our timeless values to revitalize the sorority experience.
About Billhighway: Billhighway is the foremost provider of cloud-based accounting solutions tailor-made for nonprofit, donor and member-based organizations. Billhighway's suite of nonprofit accounting solutions lets organizations dramatically improve financial management, payment processing and online banking. The cloud solution easily configures and scales to address donor, membership and financial processing needs. Nonprofit organizations use Billhighway's accounting system to reduce expenses, increase cash flow and mitigate risk. More than 3,500 nonprofits trust Billhighway to seamlessly manage $5 billion in transactions. Billhighway is recognized for award-winning customer service and industry-leading data security. http://www.billhighway.co