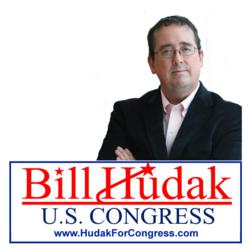 We can turn this economy around quickly if we vote out the career politicians who led us into this mess, and elect citizens who will put the needs of this nation and their district ahead of politics
Boxford, MA (PRWEB) September 20, 2011
Bill Hudak, http://www.hudakforcongress.com, candidate for U.S. Congress in the Massachusetts 6th Congressional District, announced today that he intends to formally kick off his 2012 campaign for election to United States Congress with a wine-tasting and fundraising event at the historic Alfalfa Farm in Topsfield, Massachusetts on September 30, 2011. The event coincides with the annual opening of the nearby Topsfield Fair, the oldest fair in the nation.
Selection of this venue in the heart of the 6th District was important to Hudak, "because it is a family-owned, family-operated and family-friendly small business, which epitomizes the spirit of America and this region," Hudak said. "With the economic malaise and high unemployment caused by years of government overspending, we wanted to give our supporters the opportunity for a fun-filled event, while supporting our local economy."
"Next year's election is the perhaps the most important in my lifetime, because of the serious fiscal crisis we now face," said Hudak. "Key among our challenges must be to create jobs, foster growth, and reduce this nation's unsustainable debt."
Hudak recently released a simple, three-step program to get our nation's economy moving again, including saving $1.5 trillion by repealing Obamacare, reducing the 2012 actual federal budget by 10%, and encouraging repatriation of the more than $1 trillion in earnings which corporations are sheltering offshore to avoid paying U.S. federal taxes. His plan would immediately save almost $2 trillion in unnecessary and duplicative government spending, without cutting any services or raising taxes, while providing tax incentives to corporations who hire the unemployed to invest in this country instead of overseas.
"We can turn this economy around quickly if we vote out the career politicians who led us into this mess, and elect citizens who will put the needs of this nation and their district ahead of politics," said Hudak. "We know, for certain, that the current incumbent, John Tierney, will vote for higher taxes and more spending because he has done so his entire career. The national debt was only $4 trillion dollars when he was first elected in 1996, $8 trillion dollars when the Democrats assumed control of Congress in 2006, and is now nearing $15 trillion dollars on his watch."
Regarding the timing of the campaign launch and the effect the as-yet unconcluded Congressional redistricting may have on his decision, Hudak stated, "it makes no difference how redistricting turns out, because the issues facing our nation are the reasons we need to get to work now. We know by their votes over the years that none of this state's Congressional incumbents care about cutting taxes, reducing spending, or creating jobs," said Hudak. "But in particular, my 2010 opponent John Tierney's dishonesty to his constituents about his wife's conviction for tax fraud and mishandling $7 million in illegal gambling proceeds makes it all the more important that he be replaced."
Hudak believes, "We need fresh, new leadership for Massachusetts; non-career, citizen politicians and small business owners with practical, real world experience who will work to do what is right, not just say what they will to be re-elected."
"I'm looking forward to this event at Alfalfa Farm to re-invigorate and thank my supporters, and begin the journey to victory in 2012," Hudak concluded. Hudak plans to meet constituents with frequent visits to the Topsfield Fair during the week that follows.
Bill Hudak may be reached through his website, http://www.HudakforCongress.com, or his law office located in Saugus, Massachusetts.
ABOUT BILL HUDAK
Bill Hudak, http://www.hudakforcongress.com, candidate for U.S. Congress in the Massachusetts 6th Congressional District, is a practicing attorney with more than 28 years of experience. Licensed in Massachusetts, New York, North Carolina and Florida, as well as in multiple Federal District Courts and the United States Supreme Court, Bill's consumer advocacy efforts have earned him a reputation as a lawyer practicing with "truth, honor and integrity." Bill is a hard worker and tireless campaigner who in his first bid for Congress in 2010 received over 43% of the vote, tallying the second highest number of votes of any Republican Congressional candidate in Massachusetts since 1996, and intends to fight hard to receive the 7% additional votes needed to win in 2012. A 26-year resident of the 6th Congressional District in Massachusetts, Bill is running for office to help restore this nation's prosperity and growth for our future generations. Click here to read more about Bill.
For more information about Bill and his campaign to bring common sense to the U.S. Congress, visit http://www.hudakforcongress.com and join us on YouTube, Facebook and Twitter.
###