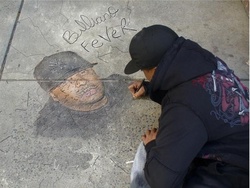 The FeVeR project is just one of the many things I have my hands in.
Charlotte, North Carolina (PRWEB) September 11, 2009
B.I.D.I. Entertainment Group an independent label in the Charlotte, NC area has been rumored to turn down a 1.5 million dollar partnership deal with one of the industries major players. There has been a huge buzz surrounding this company since their recent signing of what is believed to be one of the industries biggest free agent names "Billiano FeVeR" to an undisclosed deal. Billiano FeVeR is most famous for his self titled release "Billiano FeVeR" on iTunes and his body of work on Myspace (http://www.myspace.com/billianofever)
Billiano FeVeR is scheduled to release his sophomore cd "Dear Hollywood" by the end of the year. He is shooting his first video from the upcoming release titled "Bad As My Broad" on 9/26 in Greensboro, NC which will be directed by Michael Paulucci "Director Extraordinaire".
B.I.D.I. Entertainment President/Owner Walter T. Evans III is quoted as saying " The FeVeR project is just one of the many things I have my hands in." He made mention of "three movies in 2010, two additional artists being released, books and a franchised" he describes as "never been done before" and "wait until the world sees this". He also mentioned "anyone looking to be a partner in my business ventures would need to come a lot higher than 1.5 million dollars".
With all of the things mentioned and the few songs he allowed me to hear on Billiano FeVeR's music site (http://www.reverbnation.com/billianofever) it sounds like the entertainment industry as a whole is in store for a new day and what once seemed like a foolish move on the part of Mr. Evans to decline such a deal is now understandable. Time will decide the final verdict.
###