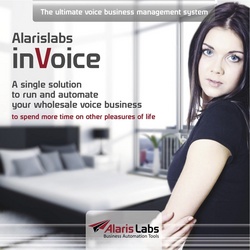 The more profit our customers can squeeze out of the traffic they process, the better for all of us. And this solution does exactly this: allows voice carriers to earn more on the same traffic pattern!
Washington, DC (PRWEB) May 19, 2010
Alarislabs, a vendor of business support systems (BSS) for wholesale and retail voice carriers, and MERA Systems, a reputable developer of software solutions for telecommunications carriers, today announced the results of successful integration between MVTS Pro (a highly scalable Class 4 softswitch from MERA Systems) and Alarislabs inVoice (a unified billing, routing, monitoring, customer care and financial system from Alarislabs). The companies will showcase the solution at ITW 2010 (24-26 May, 2010, Washington, D.C., USA) and at CommunicAsia 2010 (15-18 June, 2010, Singapore).
The integration process conducted by these two companies was targeting deep integration of the two products to provide for additional benefits not found in any other combination of Mera Systems switching equipment and BSS products. These benefits include enhanced consistency of accounting data relayed between the switch and the inVoice billing engine, the inVoice routing engine ability to take into consideration switch-specific call details and enhanced call debugging capabilities.
From the network management point of view the joint solution allows wholesale voice carriers to take advantage of MVTS pro switching capabilities and at the same time to control any other switching equipment (including VoIP and TDM switches) that might possibly be deployed on the carrier network aside MVTS Pro from the single interface of Alarislabs inVoice, thus both utilizing all available call switching resources and centralizing and simplifying the administration of them.
The MVTS Pro highest reliability and ultimate scalability, as well as an ability to ensure seamless equipment and network interconnection, have made it the best softswitch option for wholesale voice carriers. These features combined with the distributed system architecture and dynamic call load balancing make it possible to achieve unparalleled efficiency and top-level fault-tolerance. This is why MVTS Pro has been chosen by Alarislabs as the primary call switching engine to supplement the Alarislabs inVoice business support system.
Alarislabs inVoice combines a set of tools intended for wholesale carriers, which include real-time billing, automated margin- and profit-aware routing control of all underlying switching equipment, tools for commercial, NOC and financial departments. Additionally, inVoice provides for automation of all major time- and labor-consuming operations, thus freeing human and switching resources. The vast functionality of the product combined with a reliable switching engine makes it an ideal and complete solution for the wholesale voice business.
"We are excited to offer additional value to our customers with the MVTS Pro and the Alarislabs inVoice joint solution, since we strongly believe that the more profit our customers can squeeze out of the traffic they process, the better for all of us. And this solution does exactly this: allows carriers to earn more!" comments Konstantin Nikashov, CEO of MERA Systems, "Alarislabs has proved to be a customer-oriented dynamic company whose understanding of the market needs is amazing. I am strongly looking forward to develop the partnership relation with them which started with this project."
At ITW, please find MERA Systems at booth #516 and Alarislabs at booth #514, Hall C, Exhibit level.
At CommunicAsia, please find MERA Systems at booth #4F4-01 and Alarislabs at booth #4E4-12.
About Alarislabs
Alarislabs is a vendor of a business support system for wholesale and retail telecommunications carriers. The company is based on 10 years of technological and marketing experience brought by the best industry specialists and aims at delivering the best up-to-date technologies supplemented with the user-friendly access to them to the benefit of the customers. The areas the Alarislabs team is strong at include: class 4 and class 5 switching; Value Added services; Business and Operations support systems. For more information, please visit http://www.alarislabs.com
About MERA Systems
MERA Systems develops industry-leading softswitches and session border controllers that enable carriers and service providers to efficiently manage VoIP calls circulating across their networks. MERA solutions represent a powerful combination of scalability and rich functionality, bringing revenue-generating opportunities to carriers globally. To date, MERA Systems is a key provider of highly reliable and cost-effective IP-based switching and VAS platforms. The company has 800+ deployments in 76 countries worldwide. For more information, please visit http://www.mera-systems.com
# # #