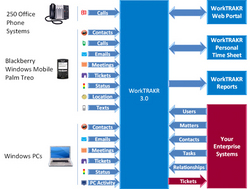 By integrating TimeSolv's online legal billing and WorkTRAKR 3.0 Service, users can be sure that time captured by WorkTRAKR automatically flows through to customers' invoices with detailed logs to back up each entry
Eagan, MN (PRWEB) April 28, 2010
TimeSolv Corporation("TimeSolv") and Proximiti Communications Inc. ("Proximiti") announced today the first customer rollout of Proximiti's WorkTRAKR 3.0 Service integrated with TimeSolv's legal billing software. Combining TimeSolv's online legal billing program with WorkTRAKR's real time capture of work events and the automatic assignment of associated billable time in real-time in TimeSolv Legal provides unparalleled benefits to a legal practice's bottom line.
"By integrating TimeSolv's online legal billing and WorkTRAKR 3.0 Service, users can be sure that time captured by WorkTRAKR automatically flows through to customers' invoices with detailed logs to back up each entry" stated Greg Berger, CTO of TimeSolv Corporation. He further offered that "Integrating our applications with Proximiti's WorkTRAKR Service allows TimeSolv to continue to provide legal professionals with state-of-the-art capabilities. We welcome the opportunity to be first to market in providing time capture capabilities integrated with online billing software which legal professionals need in these difficult times."
Gregg Smith (CEO of Proximiti Inc.) stated that "WorkTRAKR 3.0 Service capabilities now extend beyond the simple tracking of mobile phone activity and allows legal professionals to create work logs from office phones and P.C. applications that can be used for billing and practice management. For less than $30 per user per month, lawyers and their firms can track time, billings and compliance by client or matter through an automated service integrated to the TimeSolv Legal software they already use. Installation for this TimeSolv rollout takes minutes and it works with most handheld/cellular devices as well as the TimeSolv Corporation's legal billing software."
TimeSolv Corporation online billing software has been used since 1999 by small to medium sized law firms, management and marketing professional service firms, engineering and IT consultants, and health service providers. TimeSolv software solutions are ideal for professional services firms desiring to streamline their time tracking and invoicing. Since invoices can be generated and sent electronically with TimeSolv, the system also eliminates paperwork and expedites billing tasks to improve cash flow. By taking advantage of the speed and convenience of the web, TimeSolv helps professionals increase administrative productivity, lower overhead costs, and reduce non-billable hours. To learn more about TimeSolv Corporation and its products, call 877-438-3572 or visit our web site.
Proximiti Communications Inc. is a leading provider of voice over IP and broadband services along with leading edge phone systems. Legal firms can also obtain a free telecom audit from Proximiti by filling out a short questionnaire. Firms often find that with integrated Proximiti systems not only can they get the benefits of WorkTRAKR but obtain substantial cost savings as well on core voice and data services. To learn more about Proximiti or WorkTRAKR service, call 1-866-592-6626 or visit their web site.
Contact:
Mark Herring, VP Marketing
Proximiti Communications, Inc.
813.579.1000
http://www.proximiti.com
Melissa Holmquist, Sales
TimeSolv Corporation
877-438-3572
651-687-0090
http://www.timesolv.com
# # #