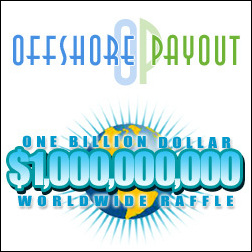 Lotteries generate huge revenue because of people's dreams of becoming wealthy. Also, one of the largest sources of charitable donations around the World comes from Domestic and International lotteries, which earmark a percentage of ticket revenue for
Commonwealth of Dominica, Eastern Caribbean (PRWEB) June 4, 2007
The world's first billion dollar raffle with an unshared first prize of half a billion dollars (US$500,000,000), a total of 1 billion dollars (US$1,000,000,000) in prize money and a draw date of June 1st, 2008 launched today.
In association with this, Offshore Payout IBC (Billion Dollar Raffle_title_World's First Billion Dollar Raffle), the hosts, with the full support and endorsement of the Government of the Commonwealth of Dominica, has devised the worldwide Billion Dollar Raffle to generate millions of dollars to support children based charities, including their own cause, the Children's Health & International Education Fund. (C.H.I.E.F.).
The Billion Dollar Raffle gives people from all over the world the opportunity to win the world's largest ever cash prize of half a billion US dollars. This Raffle will put the one, first prizewinner among the world's mega wealthy and make hundreds of others overnight millionaires. The Raffle has been devised so that every member in the draw will have at least a 1 in 2 chance of winning a cash prize, better odds of winning than any lottery in the world.
The Billion Dollar Raffle is commencing operation with a one-month pre-launch phase during which time applicants can register their intent to become a member of the draw. Applicants who sign up during the pre-launch phase will receive additional free entries in the drawing and the opportunity to get a free gift. Following the full launch in July, pre-registered applicants will have their memberships transacted as a first priority, they will be entered into the drawing and they will receive their membership cards and pre-launch incentives.
A spokesperson for Offshore Payout IBC explains, "Lotteries generate huge revenue because of people's dreams of becoming wealthy. Also, one of the largest sources of charitable donations around the World comes from Domestic and International lotteries, which earmark a percentage of ticket revenue for "good causes". We believe, with our exceptional odds of winning a cash prize, people all over the world will participate in the largest giveaway in history. In addition, we are convinced that in today's world where thousands of children die each day through a lack of immunization and where 1 in 2 children live in poverty, more should be done to support these severe issues. Innocent children just crave for a small portion of basic food and drink, good health and hope for the future. The Billion Dollar Raffle gives its members a good chance of winning the largest ever cash prize, while unconditionally helping under privileged and suffering children from around the globe. Through the Billion Dollar Raffle, members can actively help children who have less than nothing, not even their health. By doing nothing more than their everyday activities, entrants will know that they have made a contribution towards improving the lives of poor and suffering children."
For further information please contact Georgina Scott on 1-800-594-2125, ext.5800 Media Relations or Richard Stupple on 1-800-594-2125, ext.3800 International Relations or visit our website at; Offshore Payout_title_Largest Cash Payout in History
About Offshore Payout IBC
Offshore Payout IBC is an internationally registered corporation based on the Caribbean island of Dominica. The company and the Billion Dollar Raffle have been endorsed by the Government of the Commonwealth of Dominica, which will host the drawing of the Raffle in 2008. The founders and the board of Directors of Offshore Payout IBC have experience and expertise in many fields including international promotions, international sales and marketing, law, internet marketing, design and computer programming.
Worldwide advertising of the Billion Dollar Raffle will start in July following the pre-launch phase, and will be through television commercials and infomercials, billboards, Internet banner advertising and other media. Consumers will be driven to the company's website Half a Billion Dollar Raffle First Prize where they will find complete details of the program and how to apply for membership. International television coverage also will commence in July and the company is aiming to appear on network talk shows as the media campaign is rolled out.
Contact:
Georgina Scott, Director of Communications - 1-800-594-2125, ext.5800 Media Relations
Richard Stupple, President - 1-800-594-2125, ext.3800 International Relations
Offshore Payout LLC
Billion Dollar Raffle
###