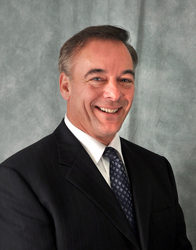 Bill continually demonstrates his core mission of developing the best solutions for his clients, based on their needs, not products.
Leawood, KS (PRWEB) September 3, 2010
Creative Marketing is pleased to announce that Bill McLaughlin, of McLaughlin Financial Group in Wall, New Jersey, is one of five finalists from a field of nearly 100 nominations for the insurance industry's top award, Senior Market Advisor magazine's 2010 Advisor of the Year. Nominees' exhibit shared traits of integrity, trustworthiness, a commitment to community service and an ability to listen to their clients.
"These traits build a connection between the advisor and his or her clients," said Mike Cajthaml, Senior Vice President of Creative Marketing's Tailor Made Division. "Bill continually demonstrates his core mission of developing the best solutions for his clients, based on their needs, not products."
McLaughlin has been in the financial services arena since1985 and is the President of the nationally known financial planning firm, McLaughlin Financial Group, LLC, in Wall NJ. He is a Certified Financial Planner (CFP®), Chartered Life Underwriter (CLU), and a Chartered Financial Consultant (ChFC®). He has received recognition from multiple carriers as a top producer for each of the last nine years and has the distinction of being a member of Creative Marketing's elite Tailor Made group, made up of the 70 top producing agents nationally. He is also an active member of the highly regarded Creative Agent Advisory Board (C.A.A.B.), serving as a mentor, advisor and resource for training, education and product information for agents in the Northeast region of the country.
The evaluation process considered multi-dimensional criteria that included number of years in the annuity and life insurance industry, personal production and average client age. Each nominee was also required to clear a background check by the National Ethics Bureau, which looked at the past seven years for civil, criminal and business violations.
"We strive to celebrate the independent advisor and I believe we have done a great job of that this year with the five finalists," said Daniel Williams, editor of Senior Market Advisor. "All of these finalists are terrific producers, who also uphold high ethical standards and have an innate ability to understand their client's greatest needs."
To schedule an interview with Bill McLaughlin or book him to speak to your group or audience, you may contact Merrit Strunk at 800.992.2642. Bill specializes in the topics of:

Investment strategies and avoiding market losses
Creating an income you can't outlive
Protecting your retirement nest egg
Common estate planning mistakes to avoid
The Senior Market Advisor Expo is an annual event in which advisors with proven sales, marketing, annuities, and life insurance experience are able to share their strategies to build strategic partnerships, generate more leads, overcoming objections and getting ahead in business.
The 2010 Advisor of the Year was announced at the Senior Market Advisor Expo, held Aug. 25-27 at Mandalay Bay in Las Vegas. All of the finalists participated in the 2010 Winners' Circle, a 90-minute panel discussion about becoming a top advisor and their strategies for helping their clients succeed, even in hard times.
Bill is a Registered Representative offering securities through Bedminster Financial Group, Ltd.
Member FINRA SIPC | 4920 York Road, Ste. 2DD1 | P.O. Box 295, Holicong, PA 18928 | 215.794.9016
ABOUT CREATIVE MARKETING INTERNATIONAL CORPORATION
Creative Marketing, a leading national marketing organization for annuity and life insurance, has been assisting financial professionals with building a successful practice since 1984. Providing affiliated agents and advisors with hundreds of product options from a variety of carriers, the company delivers superior agent education, advanced marketing training, substantial back-office support, and considerable industry expertise by more than 180 talented and knowledgeable employees. Creative Marketing sets an industry standard for its commitment to excellence, ethics and integrity in business, and agent-client satisfaction. Located in Leawood, Kansas, Creative Marketing is making a difference in the lives of its affiliated insurance agents and financial professionals and the clients they serve. To learn more about Creative Marketing visit http://www.creativemarketing.net.
11286/2010/8/30 |16839 2420310
# # #