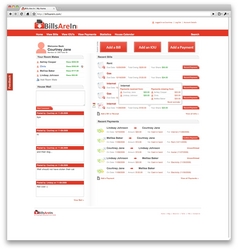 Most parents just cross their fingers when it comes to the finances of college-age children living away from home for the first time...
Townsville, Australia (PRWEB) December 27, 2009
Shared households don't have to share financial headaches thanks to the quick-pain relief provided by free web interface at http://www.BillsAreIn.com. The just-launched application makes it easy to manage and pay bills using a robust online communication system for the growing number of housemates and 'roomies' in collective living situations.
"With this free web app, you create a private web space where housemates can communicate about finances," explains BillsAreIn creator Ashley Cooper. When bills arrive, you load them into the online system, notify housemates of monies that are owed, and get those bills paid. "It's an app for a new age of shared living," he says.
This new age of shared or 'non-family' households has been well-documented by the U.S. Census bureau:
13 million Americans live in shared households
6.7 million Americans share households with other relatives
3.5 million brothers or sisters are living in a sibling's house
3.6 million parents live with their adult children. relatives
(Source: U.S. Census Bureau)
An App for the New Age
BillsAreIn is also an app for the new age of economic hardship. "You really can't afford to ignore household finances in this economy," says Cooper. "BillsAreIn is a perfect antidote to the ostrich-head-in-the-sand approach that got so many people into trouble with bills and credit."
Launched just in time for the Christmas holiday season, BillsAreIn is "my free gift to shared households," says Cooper. "I hope people will use it and enjoy a little more peace of mind along with peace in shared households"
An App for Parents
BillsAreIn is also a 'gift' for parents. "Most parents just cross their fingers when it comes to the finances of college-age children living away from home for the first time," remarks Cooper. The results, however, can be disastrous. According to American College Testing (ACT), one in every four college students leaves before completing their sophomore year, and many cite 'Financial constraints; low on funds' as the reason.
"The decisions you make and the actions you take during this first year of college will have a major impact on your college experience and the rest of your life," remarks Cooper. 'It's not the time to 'hope for the best.' Instead, Cooper recommends that families use BillsAreIn just like roommates do.
"BillsAreIn makes it possible for parents to oversee financial matters and teach good 'life skills' for financial management," says Cooper. "That's important in this tough economy...or any economy for that matter."
An App that Works
With BillsAreIn.com, roommates record and track bills, invoices, and IOU's. "When a bill arrives such as the phone, Internet or cable bill, all a housemate has to do is simply add it to the system," explains Copper. "BillsAreIn does the rest."
The system sends an SMS alert to housemates informing them how much is due and when. BillsAreIn also allows housemates to pull up detailed information on each bill, as well as posting messages on a house 'wall.' The key is speed. "By ensuring that no bill falls through the cracks, BillsAreIn can be a tremendous money-saver in light of the hefty penalties that may be levied for late payments," says Cooper..
An App for the Future
Cooper is currently developing an iPhone app which he hopes will be up and running early in the New Year. He is also exploring ways to offer full real estate and landlord integration in the future.
To learn more about BillsAreIn and to register to use the free service designed to simplify bill-paying in shared households, you may visit http://www.billsarein.com.
About BillsAreIn
BillsAreIn is a free online interface application created by Ashley Cooper to help shared households manage bills and financial activities, create cleaning rosters, make grocery lists, and create a communication wall between housemates and 'roomies.' To sign up for the free online service please visit http://www.billsarein.com or to view the walk through video, visit http://www.billsarein.com/tour
###