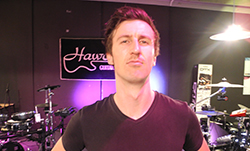 we are all looking forward to having former Billy Hyde customers join our community
(PRWEB) November 21, 2012
Following the closure of Allans Billy Hyde stores across the country, Australian music retailer, Haworth Music Centre, has sought to reassure the community that the Haworth team is well prepared to satisfy the Christmas demand.
The last of the Billy Hyde stores closed earlier this month, following their parent company, Australian Music Group Holdings, being placed into receivership.
"Watching the demise of of Allans Billy Hyde has been very sobering for us at Haworth, and has left a big gap in the Australian musical instrument retail market," said Glenn Haworth, the businesses General Manager.
"While Billy Hyde commanded 24% of the local market, it also had over 500 staff and 25 retail stores. We have just one store - but we also live in the 21st century, and have a dynamic online retail presence. Through our website we are able to reach out to customers across the country, and deliver friendly and time-sensitive responses to enquiries," said Mr Haworth.
While maintaining a strong online presence, the Haworth philosophy is very much about 'community', and its team is looking forward to welcoming Billy Hyde customers into that community.
"We are still a family business, one that was created by my father, Phil, who is a highly regarded luthier - a stringed instrument maker," explained Mr Haworth. "Every member of the Haworth team has a passion for music, and an area of specialty, and we are all looking forward to having former Billy Hyde customers join our community."
The two-level Haworth Music Centre, a short drive south of Sydney, has become a mecca for musicians, boasting the largest drum room in NSW, and a specialist repair workshop.
"We stock an impressive range of instruments, including Maton and Fender guitars, Legacy Electronic drum kits, Casio keyboards and Behringer amps, and have unrivalled expertise in the service and repair of instruments."
In the lead up to the busy Christmas season, the Haworth team is on hand to help customers, old and new, with their musical instrument shopping needs.
About Haworth Music Centre
Luthier Phil Haworth established Haworth Guitars in 1999, with a focus on building and repairing stringed instruments. In 2000 the transition from workshop to retail space was made, and in 2008 the two-level Haworth's Shellharbour Music Centre, with adjacent Warehouse, was opened in Albion Park Rail, just south of Sydney, Australia.
Phil has returned to his love of guitar-building and the business is run by his son, Glenn, who in 2011 became General Manager. The Haworth team is comprised of young people who are passionate about music and musical instruments.
Haworth's ability to remain very competitive in an online world rests with its warehousing capabilities and strong online presence.
HaworthGuitars.com.au