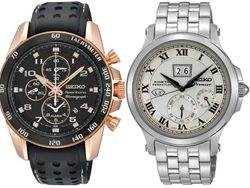 Our customers love the stylish, reliable, and technologically advanced Seiko watches, and we're happy to offer them these terrific new styles
(PRWEB) September 25, 2014
BillyTheTree.com is pleased to announce its latest fall collection of watches from Seiko. The recently introduced new line of Seiko watches are now available for purchase at BillyTheTree.com.
BillyTheTree.com offers a unique collection of high quality jewelry including magnetic bracelets, watches, sunglasses and more.
"Our customers love the stylish, reliable, and technologically advanced Seiko watches, and we're happy to offer them these terrific new styles," said Robin Weber of BillyTheTree.com.
BillyTheTree.com offers a variety of Seiko watches for both men and women. The new fall collection comes in many colors and price points. As a Seiko authorized dealer, BillyTheTree.com offers to beat or match any advertised price from any other authorized Seiko dealer.
BillyTheTree.com is a quality online source for magnetic bracelets, magnetic necklaces, copper bracelets, sterling silver jewelry, Tifosi sunglasses, jade jewelry, watches, and other unique and high-quality fashion jewelry.
For those focused on health and wellness, BillyTheTree.com is the market leader in magnetic jewelry and magnetic therapy products. They carry the largest selection, the best prices and offer top-notch customer service. BillyTheTree.com has a 30-day satisfaction guarantee. With savings up to 60% and free shipping, BillyTheTree.com is the perfect destination for quality, affordable jewelry.
For more information on the new line of Seiko watches please visit http://www.billythetree.com/seiko-watches.aspx
About BillyTheTree.com
Founded in 2004 by Robin Weber when he was still a senior in high school, BillyTheTree.com offers a large variety of affordable, yet high quality jewelry, watches and sunglasses. The company carries several product lines, which include almost 12,000 items consisting of magnetic jewelry, sterling silver jewelry, jade jewelry, high performance sport sunglasses, and more. For more information or to place an order, please visit: billythetree.com.