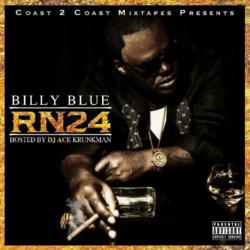 Miami, FL (PRWEB) July 10, 2012
Coast 2 Coast releases the mixtape, "RN24" by hip-hop artist Billy Blue. The project is the result of the June Coast 2 Coast REMIXtape contest that gives indie artists a chance to be featured on a major artist's cd. Indie rapper Beast won the contest and is featured on the bonus track of the mixtape. The 22 track project is presented by Coast 2 Coast Mixtape Promotion and is now available for download.
Miami native Billy Blue has lived a life that most could not imagine. After losing his mother at the age of 10, Billy Blue's life turned into a nightmare. In no time, he was forced to survive on the streets, doing anything he could to make money to eat. His experiences are what gave him his nickname: "Billy" taken from "Billy the Kid" and "Blue" because after his mom died he was always sad. When he was 11, he discovered his love for music and found that he was good at writing rhymes. His musical influences include the Geto Boyz, Dr. Dre, and Big Mike as they rapped about the lifestyle he actually lived.
"What sets me apart from everyone in this game is my life experiences. I have been through so many crazy struggles and I rap about things I know, things I have been through," says Billy Blue.
Music at first was seen by Billy Blue as an outlet for entertainment, but over the past few years, he has taken his talent more seriously. His mentor gave him the opportunity to start recording his music and Billy Blue used this time to perfect his musical style. When he got a position as a DJ at a club, he used the platform to build a buzz for his music which caught the attention of two major entertainment companies in Miami.
Blue is signed with Poe Boy Music Group, known for breaking artists Flo Rida and Brisco. To date, he has had two hit singles "When U Hood U Good" and "I Done Did That" and his debut album is set to release this summer. As an Interscope Records artist, he is also a part of a joint venture with Poe Boy Music Group, Akon's Konvict Music, and the Timbaland Mosley Music Group.
"RN24" is now available for streaming and download. Artists interested in the July Freeway Remix contest can submit music here.
About Coast 2 Coast Mixtapes
Coast 2 Coast Mixtapes are the most widely distributed mixtapes in the world, with over 100 million downloads/plays generated by over 200 volumes officially hosted by major artists. Coast 2 Coast has a solid reach in the new music industry with a digital magazine, DJ coalition, industry tips blog, yearly convention, and more. Coast 2 Coast Mixtapes represents a unique opportunity for artists of all urban genres, from major to indie. For more information, visit http://www.coast2coastmixtapes.com.