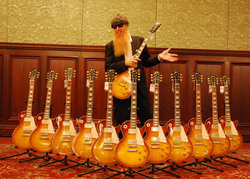 I have yet to find an instrument to equal its raw power.
Medford, OR (PRWEB) July 16, 2009
Musician's Friend, direct marketer of music gear, has announced the much-anticipated Gibson Billy Gibbons "Pearly Gates" Les Paul Standard Electric Guitars. As Billy Gibbons' favorite axe, the Pearly Gates--a rare 1959 Gibson Les Paul Standard electric guitar--has appeared on every ZZ Top album to date, while its tones have intrigued guitar builders who have tried to imitate its unique voice. Now replicated in exacting detail by the Gibson Custom Shop, Musician's Friend is currently accepting orders and preorders for three variations of this celebrated guitar.
1. 250 models have received Gibson Custom's patented Vintage Original Specification (VOS) finish. These Gibson Custom Billy Gibbons Pearly Gates 1959 Les Paul VOS Guitars are now in stock and ship free from Musician's Friend.
2. 50 models of the Gibson Billy Gibbons Pearly Gates 1959 Les Paul Aged Guitars have been aged to look exactly like Billy Gibbons' original Pearly Gates. Musician's Friend is accepting preorders for early August shipment for this version now.
3. The final 50 models have been aged by the Gibson Custom Shop, then personally signed and played by Gibbons himself. The Gibson Custom Billy Gibbons Pearly Gates 1959 Les Paul Aged/Signed Guitars are available for preorder and due to ship in early August.
Pearly Gates Les Paul Features:
These Gibson Les Paul guitars feature a special figured maple top especially selected for the Pearly Gates models with a faded heritage cherry sunburst finish. They're loaded with Seymour Duncan® Pearly Gates humbuckers that deliver Billy Gibbons' sweet yet slightly rude tone, with great sustain and a bright top end that makes harmonics jump out of the guitar. The Pearly Gates is outfitted with nickel hardware, gold top hat knobs, vintage Kluson-style tulip tuners, and a lightweight aluminum string-over stopbar for customizing your string setup. The one-piece mahogany neck with a 1959 rounded profile also sports the same long-neck tenon found in every Les Paul Standard from Gibson's Golden Era. The guitars also have period-correct CTS potentiometers and bumble bee capacitors.
Billy Gibbons is long known for his iconic sound, stage presence, and undeniably charged lyrics. He inspected the guitars at the Gibson Custom plant recently and was completely satisfied with the outcome saying, "I have yet to find an instrument to equal its raw power."
The Tale of ZZ Top's Pearly Gates:
Billy Gibbons was a young musician in Texas when he began the search for his first Gibson Les Paul guitar. The '59 Les Paul guitar, later nicknamed "Pearly Gates," didn't come to Gibbons right away, but circuitously, because of a girlfriend, a 1936 Packard, and a movie audition. In the band's early days, Gibbons had a Packard that he loaned to a girlfriend who needed to get to California for a movie audition. She got the part. The car, which Gibbons had nicknamed Pearly Gates, was sold by the girlfriend who then gave the proceeds to Gibbons. The money showed up just in time to fund the purchase of the '59 sunburst Les Paul that in its turn would become known as "Pearly Gates."
About Musician's Friend:
Musician's Friend, Inc. is the world's largest direct marketer of musical instruments and has been headquartered in Medford, Oregon, since its inception in 1983. With more than 80,000 unique products for sale, the company covers a wide range of musical needs, including guitars, basses, amplifiers, keyboards, live sound, recording equipment, drums, percussion, woodwind, brasswind, and orchestral stringed instruments, as well as related accessories that are marketed through its print catalogs and websites, including musiciansfriend.com.
The Musician's Friend website also offers informative musicians' resources, including in-depth buying guides, tech tips, hands-on gear reviews, articles from highly respected music industry professionals, interviews with well-known artists, and nearly a million customer-written product reviews and ratings.
With warehousing in Kansas City, Missouri, and a call center in Salt Lake City, Utah, Musician's Friend can be contacted at 800-776-5173 or by visiting Musician's Friend.
Musician's Friend is a wholly owned subsidiary of Guitar Center, the world's leading retailer of musical equipment.
###