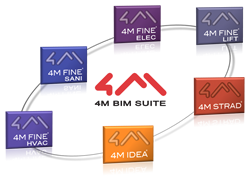 IDEA Architecture is an exceptional, low-cost alternative to BIM applications [Revit or ArchiCAD]. - Dr. Lachmi Khemlani, founder and editor of AECbytes,
Athens, Greece and Boston, MA (PRWEB) March 28, 2012
4M SA, developers of the 4M BIM software suite, and Global Force DIRECT (GFD), a veteran sales and support organization with deep experience in computer-aided design (CAD) and building information modeling (BIM), today announced that the two companies have executed an agreement granting GFD exclusive distribution rights to market and sell the 4M products for the AEC industry across the US and Canada.
4M, now available from bimforcedirect.com, offers a powerful 3D/2D BIM Suite to AutoCAD users who seek an affordable, easy transition to BIM. Specifically, 4M:

Is far more affordable, familiar to AutoCAD users, and DWG friendly than Revit®
Provides a complete BIM solution for organizations to upgrade to BIM
Offers multi-discipline applications for design, analysis, visualization, and more
Provides all of the rich, real, and numerous benefits of BIM
Doubles as a complete CAD solution supporting modern features and formats
Is proven at over 20,000 customers in 40 countries around the world.
In an AECByte review, Dr. Lachmi Khemlani, founder and editor of AECbytes, affirmed that IDEA Architecture is "an exceptional, low-cost alternative to BIM applications [Revit or ArchiCAD]."
Anthony Flynn, GFD chairman and former chief marketing officer at Bentley Systems, Inc., comments, "At the time of the 'Great BIM Debate' between Autodesk and Bentley in 2003, BIM concepts were theoretically game changing for AEC organizations and users. In the intervening years, that theory has matured into profound and recurring commercial benefit for innovators and early adopters. With this announcement, it is our hope that BIM and those benefits are now widely accessible to a much larger population of mainstream AEC users. We're particularly excited about this third step as the ultimate destiny and benefit of BIM for the industry calls for engagement across all users and disciplines."
"Over the years, Autodesk® has expanded the installed based of its AutoCAD® software among AEC professionals in North America," observed Kanti Purohit, GFD CEO. "Now, these professionals are eager to shift from CAD to BIM, but are challenged with crossing the chasm to Revit® - a chasm of a steep price and an equally steep transition curve."
Purohit continues, "To facilitate this shift to BIM and seize this business opportunity, we at GFD are pleased to announce this exclusive partnership with 4M SA in the US and Canadian markets. 4M, with its ingenious 3D technology built upon native DWG, offers an easy transition to BIM to satisfy and delight the mainstream population of AutoCAD users -- and it does so at 75% lower costs. The 4M BIM suite comes with a rich set of applications for building design by architects; design of mechanical, electrical, and plumbing (MEP) services by engineers; and production-ready output for the construction firms – all built upon a common BIM platform."
M. Spiros Papathanasiou, CEO of 4M SA, comments, "4M has been building software tools for architects and engineers since 1986. For the last 10 years, we at 4M have focused on introducing new industry standards with innovative BIM technology, powered by high-performance CAD engines. And, combined with very affordable pricing and almost no re-training costs for transitioning from AutoCAD, our BIM products are even more desirable. Over 20,000 customers in 40 countries is proof positive of this exceptional value."
M. Babis Charalampopoulos, president and CTO of 4M SA comments, "What sets 4M's BIM suite apart is our utmost attention to the user interface - to keep, and thus offer, a user interface that is already familiar to AutoCAD users. And, by adopting the familiar CAD standards and functionalities, our users of BIM solutions become productive from day one."
The 4M suite, with IDEA Architecture as its center, is the only 3D BIM suite built upon native DWG and IntelliCAD® technologies. It offers an exceptionally easy 3D BIM for the complete building design flow -- from conceptual design of building models, structural analysis, through MEP building services including Mechanical/HVAC, Electrical, and Plumbing, Water and Sewer to construction-ready 2D DWG drawings.
The 4M integrated applications, each sharing a common user interface and data model, include:

For architects: IDEA Architecture for the design, visualization, and documentation of buildings with a rich 3D BIM library of walls, doors, windows, roofs, floors, furniture, and more
For mechanical/HVAC engineers: Fine HVAC for the design and analysis of building HVAC services
For electrical engineers: Fine ELEC for the design and analysis of building electrical services
For plumbing/sanitary engineers: Fine SANI for the design and analysis of building water, sewer, and plumbing services
For structural engineers: FINE STRUCT for the design and analysis of building structures
For contractors: IDEA Architecture to produce, prepare, and maintain construction-ready output, including full sets of DWG drawings and bills of materials (BOMs).
To demonstrate how easy it is to transition from AutoCAD to BIM, Global Force DIRECT offers a free 30-day trial of full-function any 4M BIM application. Please visit bimforcedirect.com to learn more about the 4M BIM suite, download your application, and begin your free trial today.
About 4M SA
Established in 1986, 4M serves the Architect, Engineering, and Construction (AEC) industry with products built upon advanced 3D BIM technology. 4M solutions are deployed across the entire range of building design disciplines including Architectural Design, Structural Analysis & Design, and MEP Building Services Design (Mechanical/HVAC, Electrical and Plumbing).
4M solutions are used globally by more than 20,000 customers in 40 countries and are locally supported by a high skilled network of strategic partners that provide expert customer service. For more information, please visit http://www.4MSA.com.
About Global Force DIRECT
Global Force DIRECT is an international sales, marketing, and support organization helping technology companies develop and expand their global markets. Headquartered near Boston and led by executives with management experience in two IPOs and leadership of a $100M sales operation for a major software provider, it offers products and industry expertise in the following areas: CAD, BIM, AEC, EDA, and GIS..