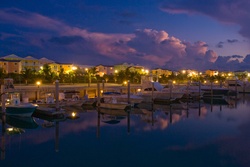 BIMINI, Bahamas (PRWEB) October 2, 2007
Just 48 miles off the coast of South Florida, Bimini Bay Resort serves as the ideal spot to host the Wahoo Challenge. Bimini Bay Resort offers beautifully appointed accommodations and upscale amenities like the resort's infinity-edge pool, fine dining restaurant plus two marinas with over 200 slips, some equipped to handle mega yachts up to 205 feet. Guests can choose from one, two and three, eloquently appointed condominiums beginning at $250/night or may opt to rent a treehouse or oceanfront home.
Anglers can look forward to some fantastic perks with the Bahamas Wahoo Challenge including hundreds of thousands of dollars in cash prizes, cocktail events, and parties with great Bahamian food and drinks, cash pay outs without entering into extra calcuttas plus individual tournaments and series-wide prizes.
The big winner of last year's tournament took home over $35,000 and a total of $103,000 was awarded in cash. Along with hosting the first leg of the tournament, the championship leg will return to Bimini Bay Resort in February of 2008. For more information and to register for the tournament, call the tournament hotline at (305) 461-2700 or visit http://www.wahoochallenge.com. For resort information and to check availability, call (242) 347-2900 or e-mail reservations@biminibayresort.com. Make sure to mention the Wahoo Tournament for booking code purposes. Visit the resort at http://www.biminibayresort.com.
Bimini Bay Resort and Marina
A longtime favorite for big-game fishing and yachting enthusiasts, Bimini is back in the spotlight with the opening of Bimini Bay Resort and Marina. Everyone can take advantage of this Bahamian retreat that offers white-sand beaches and emerald waters, located just 48 miles off the shores of South Florida. Real estate opportunities are available, including condominiums, oceanfront and bayfront homes and the resort's exclusive private island. Coming soon are the luxury Conrad Hotel, a Robert Trent Jones, Jr.-designed links golf course, Mega Yacht Marina and additional restaurants and shops. For reservation inquiries regarding Bimini Bay Resort, please call (242) 347-2900 or e-mail reservations@biminibayresort.com. For real estate inquiries, contact Fantasy Cove Realty, Bimini Bay's exclusive U.S. real estate sales representative, at (305) 513-0506 or e-mail sales@biminibayresort.com. For general information, please visit the website http://www.biminibayresort.com.