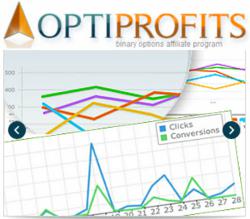 The responses we received during our survey clearly demonstrate that we have been moving in the right direction since we launched our binary options affiliate program
New York, NY (PRWEB) April 15, 2013
While still a relative newcomer into the binary options affiliate programs arena, OptiProfits, which is the exclusive affiliate program for the OptiMarkets trading platform, has been able to provide "quality" and "valuable" training for those who sign on with the program, survey respondents said.
"It is really great what level of promo material and training you guys are providing us," said an excited affiliate, adding "I've been more than a bit surprised how you are continually expanding and upgrading your training program."
The survey revealed that binary option affiliates are especially pleased with their one-on-one encounters with Optiprofits' affiliate managers, citing the professionalism, knowledge and patience of their individual managers.
"This has been my first experience with a binary options affiliate program and I was reluctant to register because I really didn't know a thing about options," another affiliate said. "Because you took a chance with me, I am now able to start producing some good results … I really don't think I could've done it without your support."
OptiProfits has been producing a series of video instructional materials that are available via You Tube. Every survey respondent pointed to these videos as a highly beneficial aspect of the affiliate program.
For example, a high percentage of affiliates cited "extremely useful, this is real added value for found in an affiliate program" a video tutorial explaining the ways to optimize the success of banners used on a binary options affiliate's website.
A second instructional video that was frequently mentioned by the respondents addresses the value of live statistic reports on website traffic and how to convert traffic into customers.
A senior OptiProfits manager expressed his delight with the survey results. "The responses we received during our survey clearly demonstrate that we have been moving in the right direction since we launched our binary options affiliate program," the manager said.
"However, we will not rest on our laurels," he continued. "We intend to continually upgrade all of the support we provide our binary affiliates in order to improve their bottom line as well as our own."