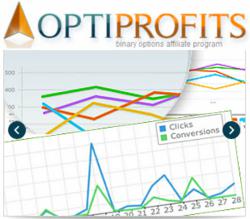 Instant approval was fundamental for the success of the second tier program. This minor concept put our binary options affiliate program on top of the list
New York, NY (PRWEB) April 30, 2013
The second-tier affiliate feature for binary options is seen by OptiProfits as an attractive way to offers its primary affiliates an additional money-making incentive while helping to spread the word.
OptiProfits is the exclusive binary options affiliate program for the OptiMarkets binary trading platform.
"It is working beyond our wildest imagination," said a senior company executive. "This has been demonstrated by the volume of new sign-ups and feedback from existing affiliates."
The success of the second-tier affiliate program was revealed in the analysis of a survey that was conducted in March, which has got more popular week by week, increasing the amount of affiliates coming referred by other affiliates.
The second-tier feature is notable for its straightforward workings and the added revenue stream that can flow into an affiliate's earnings capacity.
"This is not just some promotional drivel or a gimmick," the OptiProfits executive stressed. "We are very serious about this because it has a measurable effect on everyone's bottom line and it affects our reputation."
Second-tier binary affiliates get instant approval, which is key for such program to succeed. They offer access to training, skilled affiliate managers and live stats. In addition, the development of special marketing or co-branding tools is within the realm of possibility.
Master affiliates are in line to receive a five percent commission based on the trades generated by the second-tier partners. Higher commissions will be awarded upon success, we were told by Optiprofit's Affiliate Director.