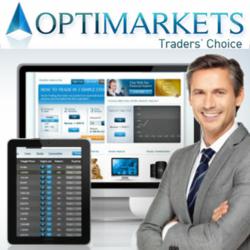 Optimarkets has put a lot of sweat and tears to deliver excellence when it comes to binary options trading and user experience.
New York, NY (PRWEB) April 30, 2013
A recently released survey for binary options trading platforms and user experience found near unanimous approval with respondents citing the appearance and functionality as "excellent." OptiMarkets "could not be visually more attractive and easier to use," one survey participant said.
As to be expected, respondents of this binary options broker quality survey held strong opinions on questions directly related to their bottom line and deposits. The responses to those questions were extremely encouraging to OptiMarkets executives.
For example, one of the strongest attractions of the trading platform is the tailor-made deposit bonus structure as opposed to the flat bonuses regardless of the deposit amount of trading strategy of each trader.
"I like what they have to offer and you can be sure that I have compared it to OptiMarkets' competitors," said a respondent. "That's why I have become a regular binary options trader at Optimarkets," she added.
When the binary trading platform was in its earliest stages of development – binary options traders did demand professional support, training and overall customer service. The vast majority of survey respondents voiced overwhelming approval of OptiMarkets' performance in these key areas.
"The responses from our users are a cause for celebration but we were not surprised," said a senior company executive. "We have put a lot of sweat and tears into this endeavor and we will continue to do so."
The executive noted that the survey of OptiMarkets traders was a companion to a survey of the OptiProfits binary affiliate program participants. OptiProfits, the exclusive affiliate program for Optimarkets binary options trading platform, received an overall "excellent" rating from its affiliates in a survey that was conducted in March.