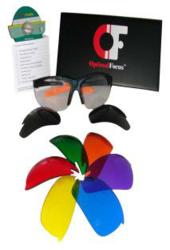 One of the more important goals for peak performance stems from the research reporting that the execution of sports activity involves shutting down the pre-frontal cortex of the brain, allowing the motor cortex to work without interruption
Los Angeles, CA (PRWEB) July 19, 2012
Five members of the U.S. Olympic Swimming Team are receiving sports focus training via binaural beat brainwave entrainment technology under under the supervision of Dr. Rayma Ditson-Sommer, Ph.D. at the Arizona Training Center. Dr. Sommer has been training Olympic athletes since the 1996 Atlanta Olympic games, and through Sydney, Athens, Bejing and now London Games. She is presently utilizing mind machine technology working with pre-Olympians, Olympians and post-Olympians. Over forty Olympic medals have been brought home by athletes receiving sports focus training by Dr. Sommer at the Arizona Training Center , several are Gold and Silver Medals.
Michael Landgraf, publisher of the AVS Journal and co-operator of Mindmachines.com says "When the difference between winning and losing could happen faster than the blink of an eye, athletes are always alert for competitive edges. The mental aspect of competitive training has grown exponentially.Strong mind, strong body, strong performance. Rayma's ability to show athletes how to access their zone, at will, is very impressive.".
According to Dr. Sommer: "One of the more important goals for peak performance stems from the research reporting that the execution of sports activity involves shutting down the pre-frontal cortex of the brain, allowing the motor cortex to work without interruption. This is a direct result of the knowledge that the right side of the brain is for excellence in performance and the left is for analyzing pre-performance. Therefore, the athlete who continually is thinking about what he or she should be doing is doomed to a less than excellent outcome. By notifying the brain that certain approaches are to be used the need for analysis is nil. The brain can then focus its direct attention to the swimming itself, bypassing the left brain and prefrontal cortex thus adding greatly to the 'freedom' of the brain to perform".
All five members of the U.S. Swimming Team that received focus training from Dr. Sommer will be arriving in London with absolutely no jet lag and prepared to begin final training much sooner than other teams. The method used to achieve this competitive edge was introduced by Dr. Sommer before the Sydney Games where all thirteen Olympians, alumni of the Arizona Training Center, arrived at the Olympic Games ready to train. This competitive edge is created by prior charting of each athlete's ultradian rhythms, finding the high and low periods, then designating a specific protocol before the low period began. This schedule allowed athletes to function at peak ability whenever necessary regardless of time zones, performance times, rest periods or sleep times.
The Arizona Training Center sports focus program utilizes Vibro-Neuro Integration Technology (VIT™) for enhancing optimal brain performance. Participants experience influences of sound vibration, color and touch on the mind and body connection. This approach is non-invasive, utilizing specific color lenses and binaural beats to stimulate the brain for better function in situations of challenge.
MindMachines.com is the distributor of Dr. Sommer's Vibro-Neuro Integration Technology (VIT™) for more information visit mindmachines.com