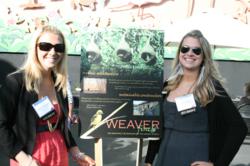 Realizing the value of nature-inspired innovations and the significant role designs based on natural principles play in sustainable design practice, we are grateful our students received this unique learning opportunity
San Diego, CA (PRWEB) May 20, 2011
San Diego Zoo Global – keepers of the world's most extensive collection of plants and animals, partnered with Design Institute of San Diego, the NewSchool of Architecture and Design (San Diego), and the College and Graduate School of Art at Washington University (St. Louis, MO) to challenge interior design, architecture and graphic arts students with the task of designing bio-inspired posters. The student poster event was an aspect of the 2011 Biomimicry conference held at the San Diego Zoo April 14 – 15, 2011. According to Dena Emmerson - a representative of San Diego Zoo Global - the 2011 Biomimcry Conference was created to "bring together business and design leaders to learn how and why nature can be a key driver of innovation and an economic game-changer".
Working in teams, students from Design Institute of San Diego's Digital Presentation classes developed their posters with instructor and faculty member Ron Neumond. DISD's unique challenge was to create a series of "movie posters" representing student design innovations inspired by one of three animals – the Elephant, the Weaver Finch and the Tailless Whip Scorpion. The student designed posters were on display during a special evening reception held on Thursday April 14th as part of the two day conference which featured award-winning speakers including Jane Fulton Suri – Managing Partner and Creative Director at IDEO and science historian, PBS television host, producer and writer, James Burke.
DISD instructor and architect Robert Thiele AIA summed up the poster event with his observation that Design Institute student posters drew considerable attention from conference attendees and "really hit it out of the park". Realizing the value of nature-inspired innovations and the significant role designs based on natural principles and systems play in sustainable design practice, Interior Design Program Director Denise Homme commented, "We are extremely grateful to San Diego Zoo Global for selecting our students to participate in this unique learning opportunity."
Design Institute of San Diego is a CIDA accredited (Council for Interior Design Accreditation) private four-year college, offering a Bachelor of Fine Arts in Interior Design degree. The Faculty at Design Institute includes approximately 50 practicing interior designers, LEED professionals, architects, artists, historians, environmental psychologists, lighting designers, engineers, computer technologists, and business consultants; all working professionals in their fields who bring practical instruction based on current professional knowledge to their classrooms.
###