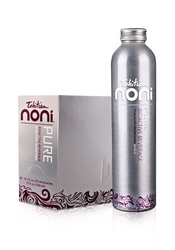 Now you can have the bioactive goodness of noni in any drink you'd like.
Provo, UT (Vocus) March 24, 2010
Tahitian Noni International (TNI) announced the introduction of Tahitian Noni® Pure™ -- a new, concentrated version of our bioactive beverages that is stripped down to nothing but powerful noni iridoids and bioactive compounds that support the heart, joints, immune system, and more. When used as a mixer, Tahitian Noni Pure adds a healthy iridoid boost to shakes, smoothies, or any desired food or drink.
Age, stress, and extreme physical activity take a toll on the body. Tahitian Noni Pure delivers a concentrated blend that provides 72mg of noni and noni tea leaf iridoids per 60 mL serving. It has more than 150 nutrients including vitamins, minerals, phytosterols, alkaloids, enzymes, and antioxidants that make it a powerful adaptogen. Adaptogens take a personalized approach to safely benefit the health and function of the body's systems, helping living things maintain a natural, healthy balance.
Tahitian Noni Pure is available in 750 mL aluminum bottles or in convenient, easy-to-carry 15 mL pouches.
"Tahitian Noni Pure is a new, concentrated product that can be added to any of your favorite drinks, making them into bioactive beverages," stated Jeff Wasden, vice president of Global Marketing for Tahitian Noni International. "Now you can have the bioactive goodness of noni in any drink you'd like."
About the Company
Tahitian Noni International is a global, research-driven bioactive products company that was the first to introduce the health benefits of the noni plant -- a bioactive-rich, adaptogenic plant, containing iridoid compounds -- to the world outside of Tahiti. Tahitian Noni International is the leader in the discovery, development, manufacturing, and marketing of noni-based bioactive products including beverages, beauty, and weight loss lines. Headquartered in Provo, Utah, Tahitian Noni International has a presence in over 70 markets around the world, and is the worldwide leader in bioactive beverages.
###