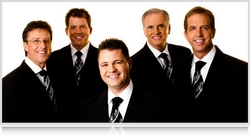 Provo, UT (Vocus) May 28, 2010
Tahitian Noni International (TNI) has announced that Eric Bennett, bass singer for the Southern Gospel group Triumphant Quartet, has just been signed as a new TNI spokesperson. Along with being a part of the "Favorite Male Quartet" awarded by Singing News fans, Bennett has received the award for "Favorite Bass Singer of the Year". Before joining the quartet, Bennett had performed daily at Dolly Parton's theme park, Dollywood, for 11 years. Bennett has been drinking Tahitian Noni® Bioactives™ for over a year now, and loves the benefits he has seen.
Triumphant Quartet tours regularly with over 200 concerts planned each year. Eric says, "The schedule is extremely stressful but I feel blessed to be able to spread the gospel through music. Tahitian Noni Bioactives help me to have better focus, stay healthy, and have better energy to keep the pace. I love spreading the word about this heaven sent product."
Tahitian Noni Bioactives are supported by 14 human clinical studies proving their efficacy.
For more information about Tahitian Noni® Products, please go to http://www.tni.com .
About Triumphant Quartet
Triumphant Quartet (formerly the Integrity Quartet until 2005) is a United States Southern Gospel group that performed at the Miracle Theater in Tennessee from 2003-2005, when it was known as the Louise Mandrell Theater. They now travel on a full-time concert schedule.
To read more about Triumphant Quartet visit their website at http://www.triumphantquartet.com .
About the Company
Tahitian Noni International is a global, research-driven bioactive products company that was the first to introduce the health benefits of the noni plant -- a bioactive-rich, adaptogenic plant, containing iridoid compounds -- to the world outside of Tahiti. Tahitian Noni International is the leader in the discovery, development, manufacturing, and marketing of noni-based bioactive products including beverages, beauty, and weight loss lines. Headquartered in Provo, Utah, Tahitian Noni International has a presence in over 70 markets worldwide, and is the world-wide leader in bioactive beverages.
###