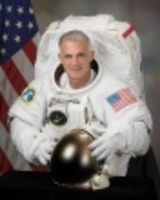 NASA Biotechnology, Innovation Through New Variables Multiple Disciplines
Boston, MA (Vocus) May 29, 2010
PlatformQ, the leading digital media producer of free online events for the healthcare, education and energy industries, and LabRoots, a free social networking site serving the scientific community, today announced Dr. David Wolf, a NASA astronaut, medical doctor, and electrical engineer is scheduled to speak at BioConference Live on June 3rd, at 10 AM EST on "NASA Biotechnology, Innovation Through New Variables Multiple Disciplines". Wolf is a veteran of five space shuttle missions and has received the Carl R. Ruddell scholarship award for research in medical ultrasonic signal and image processing. Dr. Wolf has received 15 U.S. Patents and over 20 Space Act Awards, many for 3-dimensional tissue engineering technologies, earning him the Texas State Bar Patent of the Year in 1994. He was awarded the NASA Exceptional Engineering Achievement Medal in 1990 and NASA Inventor of the Year in 1992.
Dr. Wolf will also be joined by Dr. Paul Schoemaker and Dr. Phillip LoGrasso as speakers. Dr Schoemaker is founder and Executive Chairman of Decision Strategies International, a consulting and training firm specializing in strategic management and executive development. He will speak on "Chips, Clones, and Living Beyond 100." Dr. Phillip LoGrasso, Ph.D. is Senior Director, Drug Discovery at The Scripps Research Institute. He will speak on "Discovery of Novel JNK Inhibitors for the Treatment of Parkinson's Disease". Additional speakers include Dr. Justin Lathia, Ph.D., Department of Stem Cell Biology and Regenerative Medicine at the Lerner Research Institute, Cleveland Clinic, Dr. Josip Blonder, M.D. Head, Clinical Proteomics, Laboratory of Proteomics and Analytical Technologies (LPAT), at SAIC-Fred, The National Cancer Institute, which is part of the NIH, and Dr. Pothur Srinivas, Ph.D. Proteomics Program Director at National Institute of Health.
BioConference Live offers all the benefits of a conventional conference, with live keynote presentations, peer networking and an exhibit floor -- over the web, so that attendees can conveniently participate from any computer, whether in their office, home or teaching institution. A complete list of speakers and session topics is available at BioConferenceLive.com. To register to attend for free, visit BioConferenceLive.
ABOUT PLATFORMQ
PlatformQ is a digital media company that produces virtual events in the education, energy and healthcare markets. PlatformQ connects people, organizations and associations worldwide, enabling them to meet, interact and learn from leading experts and thought leaders at online events. Virtual events produced by PlatformQ offer great access to content, real-time networking, interactivity, global reach, and efficient use of time and resources for attendees. PlatformQ events provide marketers with a measurable, targeted, and contextual environment for promoting products and services.
ABOUT LABROOTS
LabRoots is a social utility designed to network the professional scientific community based on individual scientific experience, discipline, and aptitude. LabRoots fosters world-wide scientific communication and incorporates the newest social networking technologies. LabRoots allows scientists to connect with each other as they describe their research interests on a myriad of unique features and tools, discovering meaningful collaborations across geographic boundaries and fields of expertise.
BioConference Live are trademarks of LabQ, LLC. All other trademarks or service marks are property of their respective owners.
###