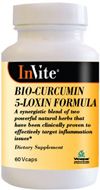 Bio-Curcumin® & 5-Loxin is a synergistic blend of two powerful natural herbal constituents that have been clinically proven to effectively target inflammation issues.
New York, NY (PRWEB) May 24, 2012
InVite® Health, a leading nutraceutical firm headquartered in New York City, today announced the introduction of Bio-Curcumin/5-Loxin standardized herbal product. Many scientific studies have targeted inflammation as an important part of a large percentage of serious health conditions. The product has been formulated to address systemic inflammation, to improve the available antioxidant pool and to provide nutritional support for overall improved cellular health.
A natural supplements' primary purpose is to promote and to support good health. For some time, scientists have been aware that inflammation contributes to conditions as varied as arthritis, obesity, cardiovascular disease, and diabetes and many leading causes of chronic illness that can affect both health and longevity. Scientific teams have been investigating natural remedies that hold promise for inflammation control and Turmeric (BioCurcumin) which has strong literature supporting its use.
Turmeric, the herb that provides curry with both its color and flavor supplies powerful curcuminoid constituents that impact inflammation and cellular health. However, these constituents especially the most active curcuminoid known as curcumin, are not in their initial state, fully absorbable.
"What separates InVite® Health's Bio-Curcumin/5-Loxin product is our understanding that standard curcumin is poorly absorbed," comments Steve Kornblatt, President, InVite® Health, Inc. He adds, "Our scientists have addressed this issue and have developed an 8 times more absorbable form of curcumin, BCM-95®. Additional published research on 5-Loxin, a nutrient derived from the natural herb Boswellia serrata, demonstrates its noteworthy ability to inhibit the actions of harmful enzymes that break down cartilage." Kornblatt concludes.
Bio-Curcumin® & 5-Loxin is a synergistic blend of two powerful natural herbal constituents that have been clinically proven to effectively target inflammation issues. Curcumin from turmeric, a plant native to Southern India and Indonesia has been used by millions and has a long history covering centuries as a traditional therapeutic remedy in these cultures. Boswellia serrata, also known as Indian frankincense, also has centuries of traditional use. Modern scientific studies including many published human clinical trials support the use of these two herbs for inflammatory indications.
The chief benefits of InVite® Health's Bio-Curcumin/5-Loxin formulation are the nutritional support it provides for the entire body- cells, muscles and bones. Additionally, it supports and protects the intestinal tract, a long source of inflammation and discomfort. The product is recommended for those seeking relief from any form of inflammation but may be of particular benefit to those with skin, intestinal and joint conditions such as eczema and/or psoriasis, Crohn's disease or colitis, tendonitis, bursitis or sciatica.
For more than a decade, InVite® Health has been recognized as an innovator and leader in the nutritional supplement industry. Offering a comprehensive line of the finest quality vitamins, herbs, minerals, specialized formulas and personal care products, the Company has built a loyal and growing consumer base. Their solid reputation has been founded on ensuring the highest standards in nutraceutical research and product development. The firm is also committed to providing their customers with service excellence and assistance with charting and maintaining their path to wellbeing.