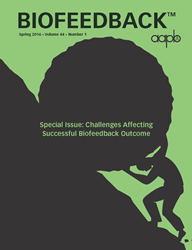 Learning a motor skill (such as pressing a button switch to make a toy move) may be made possible by using the correct modality, in this case QSEMG.
Lawrence, Kansas (PRWEB) April 07, 2016
Biofeedback – There are many simple things in life we take for granted on a daily basis, including the ability to sit up straight, reaching and grasping for objects, or even simple communication with another person. Unfortunately, there are millions of people who live with debilitating illnesses that cause them to lose their motor and/or communication skills. However, advancements in biofeedback are making it possible for people to obtain some of these skills.
An article in the current issue of the journal Biofeedback examined a case study of severely autistic, wheelchair-bound 7-year-old girl with barely any motor or communication skills and no previous signs of learning capability. This child was part of an 11-session treatment plan to help her sit upright and reduce the extreme curving in her back. This back problem was causing serious spinal deterioration.
The treatment involved using quantitative surface electromyography (QSEMG), which is a method in which a person does not actively try to control individual muscles, but instead uses a patterned response based on a grouping of muscles to perform an action. Over the 11 sessions, the patient began with a 33 percent success rate. By the end of the study, the patient was able to sit up straight with a 90 percent success rate. She also gained the ability to press a button switch to activate a toy, which she was previously unable to do.
The research performed in this study proved that using QSEMG has a very high success rate. Despite the steep learning curve for any interventions in children with severe autism, the patient was able to leave the treatment setting with notable improvements to her learning and posture.
According to author Jeffrey Bolek, "Learning a motor skill (such as pressing a button switch to make a toy move) may be made possible by using the correct modality, in this case QSEMG." It is also important to note that this patient would typically not have been a candidate for the study due to her extreme inability to learn, so this method can be applied in atypical cases with positive results. Further research needs to be done to test this finding.
Full text of the article, "Motor Learning Made Possible Using a Tool of Applied Psychophysiology: Quantitative Surface Electromyography," Biofeedback, Vol. 44, No. 1, 2016, is available at http://www.aapb-biofeedback.com/doi/full/10.5298/1081-5937-44.1.02.
###
About Biofeedback
Biofeedback is published four times per year and distributed by the Association for Applied Psychophysiology and Biofeedback. AAPB's mission is to advance the development, dissemination, and utilization of knowledge about applied psychophysiology and biofeedback to improve health and the quality of life through research, education, and practice. For more information about the association, please visit http://www.aapb.org.