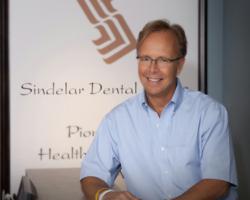 By addressing oral biofilms, we can reduce annual healthcare costs for a diabetic patient by 25%
St. Louis, MO (PRWEB) January 10, 2013
Dr. Dan Sindelar, current president of the American Academy for Oral Systemic Health, joins the expert panel featured at the Biofilm Innovations 2013 health conference hosted by Thomas Webster of Northeastern University College of Engineering, in collaboration with Richard Longland of the Anthroplasty Patient Foundation. Featuring videos, commentaries, panel discussions, and a question-and-answer session, the conference provides an opportunity to learn more about biofilms and how they affect chronic disease, wound recovery, periodontal disease, and more.
Biofilms are the predominant microbiological life form; medical research has devoted significant study in the last 30 years to how these bacteria survive in nature. Left unchecked, these life forms can work against their host, causing chronic disease, hospital infections, periodontal infections, chronic wounds and many other conditions that cost the U.S. more than $100 billion annually.
"The quickest way to reduce healthcare costs is to get rid of the effects of biofilms," says Dr. Sindelar. "By addressing oral biofilms, for instance, we can reduce annual healthcare costs for a diabetic patient by 25%."
Together with Dr. Garth D. Elhrlich and Dr. Randy Wolcott, Dr. Sindelar joins the panel at Biofilm Innovations 2013 to discuss how biofilms affect the human body and the unifying method of diagnosing and treating biofilm diseases. After a short film on dental biofilm, Dr. Sindelar will give a presentation on dental issues regarding biofilm, specifically addressing the oral-systemic health connection.
Garth D. Ehrlich, Ph.D, is the Executive Director of the Center for Genomic Sciences, Professor of Microbiology and Immunology and Professor and Vice Chairman in the Department of Human Genetics at Drexel University College of Medicine. Randy Wolcott, MD, heads the Southwest Regional Woundcare Center in Lubbock, Texas and has been practicing treating "unhealable" wounds for twelve years.
Open to both members of the public and the medical community, the free event begins at 6:00 pm on Wednesday, January 30, 2013 in the Blackman Auditorium at Northeastern University in Boston, Massachusetts. For more information, or to register for the event, visit http://biofilms.eventbrite.com.
About Dr. Dan Sindelar
Dr. Sindelar is the current president of the American Academy for Oral Systemic Health (AAOSH). He evangelizes cooperation and communication between the medical and dental fields in light of remarkable new dental treatments. By participating with cardiologists in the prevention of heart attacks, strokes, and diabetes, he earned his preceptorship certification, a sign of the importance that the medical community now places on dental care as an essential component of overall health. Dr. Dan was born and raised in St. Louis, where he has run a private practice, serving the community as one of its leading dentists for more than 30 years. Dan focuses on general advanced cosmetic rehabilitation, gum disease, oral inflammation, comprehensive periodontal management, dental sleep medicine, neuromuscular dentistry, and facial pain and TMJ/TMD therapy.