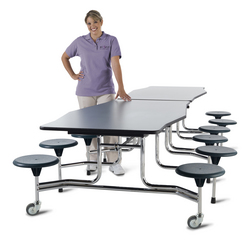 The sweeping yet symmetrical lines of the Avant give designers, event center planners and institutional decision makers a new choice when laying out meeting areas and dining facilities
Bowling Green, OH (PRWEB) October 19, 2009
BioFit Engineered Products, an Ohio-based manufacturer and long-standing leader in the development of ergonomic furnishing solutions, today introduced the first model in its new EdgeScape™ table line: the Avant™. Featuring an unprecedented contoured table top shape and proprietary edge profile, the Avant was designed to facilitate communication between users in educational, hospitality, business and institutional settings while providing a stylish look and array of options over more traditional mobile folding tables. The Avant joins BioFit's other table lines in earning GREENGUARD® indoor air quality and Children and Schools certifications as well as meeting U.S. Green Building Council LEED® compliance standards for use in commercial interiors.
According to BioFit President Ed Metzger, the Avant was developed to meet demand within interior design and architectural circles for aesthetically pleasing, highly functional and easily deployable tables. "The sweeping yet symmetrical lines of the Avant give designers, event center planners and institutional decision makers a new choice when laying out meeting areas and dining facilities," stated Metzger. He continued: "Used alone or in groups, the Avant footprint maximizes space as if it were a more common, geometrically shaped table, with the added advantage of allowing users seated in offset positions to partially face each other. This enables more effective communication as those seated at the Avant can naturally speak in a lower voices than while seated at traditionally shaped tables when talking amongst themselves, which also decreases the overall ambient noise of the room or hall." Metzger concluded saying prototype development was well underway for subsequent models of the company's new EdgeScape table series, so named for the proprietary, sculptured ComfortRim™ edge profile of each design in the line.
In addition to its unique table top and edge profile, the Avant is the first BioFit table to come standard with a new non-marring, gray, easy-roll caster. Available in 10-foot and 12-foot lengths, all Avant tables feature a 14-guage, robotically welded steel frame, 12 round ABS seats with waterfall edge, a recessed vertical hinge with automatic locking mechanism, torsion-bar-assisted easy folding system, anti-pinch protection and a variety of laminate top and powder-coated frame or chrome finishes. Both the 10- and 12-foot models are available in 27- and 29-inch heights. Like all BioFit tables, the Avant carries a 13-year warranty.
For additional information on BioFit ergonomic seating, tables and accessories, visit http://www.biofit.com or call at 800-597-0246.
Located in Bowling Green, Ohio, BioFit Engineered Products is a leading manufacturer and global provider of LEED-compliant ergonomic seating, GREENGUARD-certified cafeteria and mobile tables, carts and specialty products for educational, office, laboratory, industrial, bio- and high-tech, healthcare, hospitality, and custom environments.
###