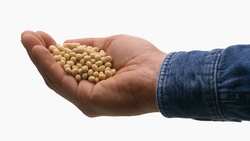 We are thrilled to become the first carpet cushion manufacturer to partner with BiOH Polyols from Cargill to further reduce our carbon footprint and create a healthier living environment for consumers.
Minneapolis, MN (Vocus) February 13, 2008
Who knew soybeans could be so comfortable? BiOH polyols from Cargill gives consumers the opportunity to rest comfortably while making more environmentally responsible choices and lessening their dependence on petroleum. When the BiOH ingredient is used to make polyurethane foam materials used in furniture, bedding and flooring products, it replaces a portion of the petroleum typically used in foam production.
Foam made from soy-based BiOH polyols is now available across the country in various retail stores. In some instances, consumers may not even know it's there. Today, it's featured in cushioning for upholstered furniture, bedding, carpeting and flooring. More industries may come on board in the near future.
It's Time To Rethink What You're Sitting On
Preserve™ (http://www.preservefoam.com), the world's first biobased foam, is produced by Hickory Springs® Manufacturing Company (http://www.hickorysprings.com) in Hickory, North Carolina. Hickory Springs was the first to partner with BiOH polyols almost two years ago and place its foam into furniture. "We are very proud to be associated with Cargill because of their knowledge, size, expertise and international presence," says Bobby Bush, Hickory Springs vice president of Foam and Environmental Technology. "Our strength has traditionally been in foam for the furniture industry. Though Hickory Springs will continue to develop BiOH polyol-based products for home furnishings, we also are aiming our R&D and marketing efforts toward other industries as we spread the responsible message of BiOH Polyols."
LEE Industries (leeindustries.com) was the first furniture manufacturer to incorporate Preserve into its seating program. The naturalLEE (http://www.naturallee.com) line has been trumpeted in consumer magazines and is available at fine furniture store nationally, including select Crate & Barrel.
Several other furniture manufacturers use BiOH polyols in their foam to lessen their environmental footprint. Clients include industry leaders such as Lane® Home Furnishings (lanefurniture.com), Bauhaus USA, Inc. (bauhaususa.com) and Norwalk© Furniture (norwalkfurniture.com). For a complete list, visit http://www.bioh.com/furniture/bioh_who_use_polyols.html.
Put a Spring In Your Step
Healthier Choice (http://www.healthierchoice.com) is an environmentally conscious maker of functional foam underlay for carpets, laminates, manufactured woods, and hardwood floating floors.
Healthier Choice is now including BiOH polyols in the production of its cushioning and underlay. The company's products are designed to create a more environmentally friendly indoor living environment. The addition of BiOH polyols delivers unique performance benefits for Healthier Choice while allowing customers to reduce their environmental footprint. The company is now integrating the use of BiOH polyols throughout its product line, including Healthier Choice Carpet Cushion®, Foundation Contract Carpet Cushion, and Sound Solution™ Premium Acoustical Underlayment.
Healthier Choice President Craig Poteet says, "We are thrilled to become the first carpet cushion manufacturer to partner with BiOH Polyols from Cargill to further reduce our carbon footprint and create a healthier living environment for consumers."
Healthier Choice products are available in select West Coast retail locations of The Home Depot®.
Rest Easy: Greener Sleep Products
Henson Sleep Relief based in Tupelo, Mississippi, is the first manufacturer of foam mattress pads and pillows to launch BioFlexä Hybrid foam (http://www.flexiblefoam.com) products to consumers. The BioFlexä Hybrid foam is made with BiOH polyols and marketed through Springs Global US, Inc. (http://www.springs.com).
Henson Sleep Relief will incorporate the foam in all manufactured cushioning products by June 2008. "While this type of foam reduces the dependency on crude oil, there is no reduction in the quality the customer gets when buying Henson Sleep Relief's products," says Henson Sleep Relief CEO, David Henson. "There is no difference in comfort for the consumer. BioFlex Hybrid products have the same durability and great performance as regular foam mattress pads."
Henson manufactures products for private labels and under the Cloud 9 Nine™ brand at retail outlets.
More On the BiOH Business
As one of Cargill's bioindustrial businesses, BiOH Polyols represent the most significant development the polyurethane industry has seen in decades. The development was recognized by the Environmental Protection Agency as the 2007 Presidential Green Chemistry Challenge Award winner in the Designing Greener Chemicals category and also won a Sustainability Award from the Society of Plastics Engineers in 2007. For more information, visit http://www.bioh.com.
The following images are available upon request:

Red leather chair made with Preserve foam with mother and child models
Tan couches made with Preserve foam with man and woman models
Tan chair made with Preserve foam with man or woman model
Green Healthier Choice foam with black back drop
Mattress pads made with BiOH polyols foam with and without packaging
Contour pillow made with BiOH polyols foam with and without packaging
Chemist with beaker of soy-based Polyols from the BiOH group
Hand holding soybeans (tight shot)
BiOH foam
American soybean field
BiOH logo
Interested in following the story? Subscribe to the BiOH Bulletin at: http://www.bioh.com/furniture/bioh_bulletin6.html
Contact:
Yusuf Wazirzada
Yusuf_Wazirzada @ cargill.com
(877) 765-9246
Susan Dosier
sdosier @ lkmideas.com
(704) 953-9408
# # #