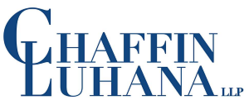 New York, New York (PRWEB) July 05, 2012
Chaffin Luhana LLP, a national plaintiffs-only law firm, alerts patients implanted with a Biomet M2a Magnum hip implant to the fact that federal lawsuits alleging injuries from the implant may soon be consolidated into one court. Plaintiffs who filed a Biomet lawsuit often allege complications like pain and premature loosening that require revision surgery, according to court documents. Consolidating these cases is expected to promote efficiency and cost savings, while reducing the risks of inconsistent rulings.
The Biomet M2a Magnum is one of many metal-on-metal hip implants now under scrutiny by the FDA because of higher-than-expected failure rates. Other manufacturers of all-metal implants already involved in consolidated litigation include DePuy Orthopaedics (for the DePuy ASR MDL Case No. 2197 and the DePuy Pinnacle MDL Case No. 2244), Zimmer Inc. (for the Zimmer Durom Cup MDL Case No. 2272), and Wright Medical Technology (for the Conserve hip implants MDL Case No. 2329). In March 2012, the National Joint Registry of England and Wales published an article in The Lancet indicating that all-metal implants like the Biomet M2a Magnum are associated with higher failure rates than other types of implants. To date, the FDA has received at least 450 complaints involving the M2a Magnum. So far, however, there has been no indication of a pending Biomet hip recall.
On June 27, 2012, according to court documents, plaintiffs Leyda Ching (N.D. California, No. 12-CV-0502) and Diane Winningham (N.D. California, No. 12-CV-0503) brought a motion before the U.S. Judicial Panel on Multidistrict Litigation to transfer all cases involving the Biomet M2a Magnum hip implant to either the Northern District of California or the Southern District of New York. In support of their motion, the plaintiffs note that the panel has already granted motions to transfer cases arising out of other metal-on-metal hips made by DePuy and Zimmer. They also anticipate that hundreds more patients will soon come forward to file a Biomet hip lawsuit, and state that consolidated pretrial proceedings will promote judicial efficiency and achieve cost savings.
The plaintiffs suggest the Northern District of California since three of the cases pending are filed there – more than in any other district – and because several judges there have experience in handling complex multidistrict litigation. A large population of M2a Magnum patients are also purported to live in the same district. The Southern District of New York was suggested as an alternate location because one case is pending there, and several judges in that district have experience handling this type of litigation.
Ching and Winningham also note in their motion that Biomet hip lawsuits should be resolved by one judge because the suits share similar allegations, including plaintiff injuries and damages, as well as similar causes of action, including product liability, negligence, and breach of warranty. They add that adverse event reports submitted to the FDA are increasing with time, and that the pace of new lawsuit filings will be similar to other metal-on-metal hip implants that the panel has consolidated.
Patients who seek the help of a Biomet hip lawyer are likely to have suffered injuries such as:

severe inflammation of tissue and bone surrounding the implant
metallosis
toxic levels of cobalt and chromium
inability to walk
the need for revision surgery
A Biomet hip lawyer is likely to allege that the manufacturer defectively designing the M2a Magnum and failed to warn of the risks associated with the implant.
Chaffin Luhana LLP has a long and successful history of protecting the rights of patients affected by defective drugs and medical devices. Partners Eric Chaffin and Roopal Luhana have represented high-profile cases in federal and state courts across the country. Though unable to guarantee results, the firm has a distinguished track record of success and is highly committed to each case.
If you or a loved one has suffered an injury allegedly caused by the Biomet M2a Magnum hip implant, contact a Biomet hip lawyer at Chaffin Luhana LLP for a free and confidential case review at 1-888-480-1123, or visit their website at http://www.chaffinluhana.com. A Biomet hip lawsuit may be able to help recover damages and ease the financial challenges of medical treatment.
CONTACT
Eric T. Chaffin, Esq.
CHAFFIN LUHANA LLP
600 Third Ave.
12th Floor
New York, New York 10016
Toll Free Telephone: (888) 480-1123
Toll Free Fax: (888) 499-1123
Attorney Advertising. Prior results do not guarantee or predict a similar outcome with respect to any future matter.