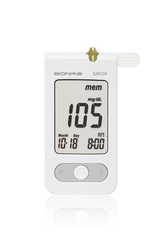 Proper diabetes management requires and diabetic patients are demanding accurate, reliable, consistent results. At Bionime, we are committed to meeting these demands and the GM550 carries on our commitment to these core requirements
San Diego, CA (PRWEB) June 30, 2010
Bionime USA Corporation (http://www.bionimeusa.com) today announced that they have received FDA 510(k) clearance for the New Rightest™ GM550 Blood Glucose Monitoring System.
The Rightest™ GM550 Blood Glucose Monitoring System incorporates Bionime's new patented True Auto Code® System, as well as their patented, integrated gold nano technology. Bionime's True Auto-Code® System is an innovation in the BGM market, made possible through the use of Bionime's unique injection molded test strips. Bionime's True Auto-Code® System provides users with the highest levels of precision, accuracy and consistency without having to input codes or calibrate the meter. Bionime's large, injection molded test strips are unique in the industry. Their size, makes them easy to handle and greatly reduces the risk of wasted tests due to bent or damaged strips, thereby improving the overall testing experience and reducing cost.
In addition, The Rightest™ GM550 Blood Glucose Monitoring System offers features that diabetics expect in a blood glucose meter, such as a stylish ergonomic design, large LCD screen, small sample volume, backlighting, download capability and 500 test memory with 7, 14, 30 and 90 day averaging. "Proper diabetes management requires and diabetic patients are demanding accurate, reliable, consistent results. At Bionime, we are committed to meeting these demands and the GM550 carries on our commitment to these core requirements" said Jeff Konecke, Vice President and General Manager of Bionime USA Corporation. "We are pleased to be able to offer diabetics a new choice to better manage their diabetes."
In conjunction with the release of the Rightest GM550 Blood Glucose Monitoring System, Bionime USA has begun an extensive national print and broadcast advertising campaign.
About Bionime
Established in April 2003, BIONIME (http://www.bionime.com) is specialized in the business of biotechnology and medical testing. BIONIME integrates top-tier expertise in medical science, chemistry, electronics and precision engineering to commercialize our patented noble metal, biosensor technology used in our meters and test strips. Today, BIONIME employs more than 500 people and operates 4 subsidiaries in Europe, the America's, Australia and Asia. Our products have been shown to meet or exceed the highest standards of accuracy and precision in numerous independent studies published in leading international clinical journals. Bionime products are distributed worldwide and are available in all the major markets. Through our continued commitment to quality and with the continued support of customers worldwide, Bionime will continue to take the lead in providing the highest quality, most accurate and reliable products available in the BGM market. More information please visit Bionime's Web Site at http://www.bionime.com.
About BionimeUSA
BionimeUSA Corporation (http://www.bionimeusa.com), a wholly owned subsidiary of Bionime Corporation (Taiwan Stock Exchange - Emerging Markets 4737), is the North America and Latin America sales and marketing arm of Bionime Corporation. BionimeUSA was established in 2007 to provide distributors, retailers and consumers a direct, "locally" based company to handle sales, marketing, distribution, customer service and technical support. Bionime's complete line of branded, co-branded and OEM BGM products are available through BionimeUSA. For more information regarding BionimeUSA Corporation or availability of our products, call 858-481-8485 or visit Bionime USA's Web Site at http://www.bionimeusa.com
# # #