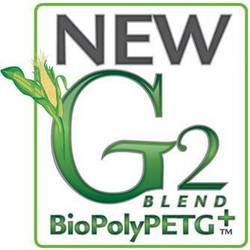 Milwaukee, WI (PRWEB) March 23, 2010
The interior architectural product industry's greenest material just got greener. InPro's BioPolyPETG+™ line has received GREENGUARD® certification for Indoor Air Quality as well as the Children and Schools seal.
Earlier this month, InPro rolled out a new line of door and wall protection products made from a blend of biopolymer and reformulated PETG including recycled content. The green building products are sold at the same price level as InPro vinyl products, and marketed under the BioPolyPETG+™ trade name.
The GREENGUARD Environmental Institute (GEI) is an industry-independent, non-profit organization that oversees the GREENGUARD Certification ProgramSM. As an ANSI Authorized Standards Developer, GEI establishes acceptable indoor air standards for indoor products, environments, and buildings. GEI's mission is to improve public health and quality of life through programs that improve indoor air.
All of the raw materials used in their manufacturing process for the BioPolyPETG+™ green building product line come from U.S. based suppliers. No materials are shipped in from overseas, keeping the carbon footprint to a minimum. The new BioPolyPETG+ blend has already obtained its NFPA Class 1 fire rating and the blending of biopolymer also means InPro products may contribute to LEED® credit for rapidly renewable material.
InPro's blend of biopolymer and PETG does not contain PBTs. It also is BPA free. InPro uses PETG as a base and blends it with a plant-based biopolymer to give the materials high-impact resistance. The base PETG holds a Silver Cradle to Cradle Certification(CM).
The new BioPolyPETG+™ certification brings to six the total number of InPro green building products and materials that have received GREENGUARD certification, including InPro rigid vinyl profile and sheet, PRISM® Solid Surface, and G Series PC/ABS profile and PC/ABS wall-cladding sheet.
Background:
InPro Corporation – Based in Muskego, Wisconsin, InPro is the nation's premier manufacturer of building products, offering the most choices and best service in door and wall protection, decorative surfaces, expansion joint systems, cubicle track & privacy curtains and signage & wayfinding. InPro products are used in the healthcare, senior living, hospitality, education, government, marine and retail sectors.
InPro Corporation also operates an exclusive Color and Design Center that employs a professional, licensed interior designer who assists customers in coordinating InPro products and custom environments that integrate color, style, function, comfort and life safety.
For more information on InPro Corporation, visit http://www.inprocorp.com, or call 800-222-5556.
###