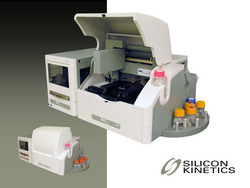 San Diego, CA (PRWEB) September 28, 2010
Silicon Kinetics Inc., the pioneering life sciences tool company which introduced the world's first 3D biosensor surface for label-free biomolecular interaction analysis, announced the general availability of SKi Pro™ X1000. This innovative biosensor instrument is the newest addition to the SKi Pro platform for label-free interaction analysis.
"Sensitivity naturally depends on the particular biomolecular interaction under study," said Hus Tigli, Chairman and CEO of Silicon Kinetics. "As an example, SKi Pro X1000 achieves 100 ng/ml limit of detection in high throughput ranking of antibody/antigen interactions in our fluidics-free, microplate format. When used in the flow cell format, the same instrument is capable of limits of detection as low as 1 ng/ml in interactions such as EGF/anti-EGF."
Silicon Kinetics SKi Pro is the world's only label-free biomolecular interaction analysis platform which allows experiments in multiwell plates and fine kinetic measurements in flow cells, all using the same reader instrument and the same surface chemistry. This unique dual-format feature can thus save time in overall protocol development, and enable uniformity and better correlation of experimental results across various departments in drug discovery and development. The technology making the dual-format feasible is NPOI, or nano-pore optical interferometry.
With integrated robotics, SKi Pro X1000 also automates experiments in a 96-well plate, all fluidics-free, with 8 wells read at a time. Interaction analyses may be carried out at 15-60 degrees C, the widest range in the industry. In the flow cell mode, flow rates can be adjusted 1-100 microliters/minute.
About Silicon Kinetics
Silicon Kinetics, Inc. is a privately-held life sciences tools company headquartered in San Diego, California. The Company specializes in instruments for optical interferometry in nano-porous silicon biochips. The SKi Pro™ instrument platform and the 3D SKi Sensor™ biochips are used to detect protein-protein, protein-drug, or protein-DNA interactions in real-time and quantify binding kinetics, dissociation rates, or biomolecular affinity rankings, required for the study of disease pathways and the development and manufacturing of therapeutics. More information can be found at http://www.siliconkinetics.com.
###