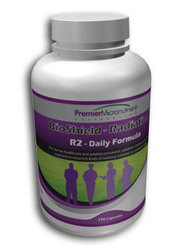 BioShield Radiation® can help people with either regular or occasional exposure to radiation
Denver (PRWEB) April 8, 2011
A team of eminent scientists at Nashville-based Premier Micronutrient Corporation (PMC), have developed BioShield-Radiation® (http://www.bioshieldpill.com), the world's first patented, safe "radioprotective" pill containing a unique formulation of antioxidants proven to efficiently absorb harmful free radicals and diminish radiation-induced biological damage.
"BioShield Radiation® can help people with either regular or occasional exposure to radiation," said Dr. Gerald M. Haase, one of the formulation's developers. "Military personnel, people living and working around nuclear power plants, pilots and frequent fliers, firefighters, radiology technicians, as well as those who have only an occasional exposure, such as a CT scan, can benefit from the appropriate dosage of this anti-radiation pill."
A recent human DNA study, conducted at the University of Erlangen-Nürnberg, Germany and using extremely sensitive tests, analyzed the effect of BioShield Radiation® on an exposure of 10mGy (ten milligray) – a diagnostic dose of ionizing radiation, such as would be received in a CT scan. The tests proved that the BioShield-Radiation® formulation decreases Double Strand DNA breakage – the type of lesion that leads to cancer, by 53 percent.
The product was originally developed at the request of the Marine Corps after the terrorist attacks of 9/11 to protect military personnel from the adverse effects of radiation. Research in collaboration with the Armed Forces Radiobiology Research Institute, the Marine Corps Systems Command, the Naval Health Research Center, NASA, and prominent universities has demonstrated BioShield-Radiation®'s effectiveness in addressing radiation-induced oxidative stress.
Three scientists are primarily responsible for the development of the PMC anti-radiation pill. Kadar N. Prasad, PhD, is a renowned radiation biologist who has devoted more than 30 years in the study of the mechanisms of cancer and other illnesses. He is internationally known for his landmark work in the area of micronutrient supplementation. Gerald M. Haase, M.D., is known for his ground-breaking work in oncologic research and the development of novel strategies for chemoprevention and nutritional oncology. William C. Cole, PhD, is an experienced clinical investigator in pharmaceutical sciences and a laboratory scientist in antioxidant research.
Ionizing radiation is odorless, invisible and has a cumulative effect on the body's cellular integrity. The effects of ionizing radiation in the body can be life-long and are seen in the increased incidence of serious chronic diseases and heritable genetic damage. X-rays and gamma rays drive electrons out of their normal atomic orbits with enough kinetic energy to generate charged molecules and free radicals that create cellular damage. Free radicals are one of the primary causes of oxidative stress-related diseases in humans such as cancer, heart disease, neurological disease, and aging.
According to Dr. Prasad, "Ionizing radiation, even at very low doses, is now officially classified by our government health agencies as a carcinogen. It's been known for decades that antioxidants exhibit radiation protection. This unique patented formulation provides optimal protection for the whole body." Potassium iodine protects only the thyroid from acute radiation syndrome.
Traditional methods of protecting against ionizing radiation exposure include 1) shielding the body behind a non-permeable surface such as a lead apron, 2) maximizing the distance from the radiation source, or 3) limiting exposure times and frequency. Now, there is a systemic biological strategy that supports cellular protection against the adverse affects of DNA damage caused by radiation.
BioShield-Radiation R1® (for incidental exposure) is recommended for use shortly before (and sometimes, after) medical and dental x-rays. Additionally, R1 is appropriate for individuals taking airline flights or subject to brief periods of high oxidative stress (e.g., entering a smoke-filled environment). The BioShield-Radiation® anti-radiation pill has been taken by patients receiving CT scans and retired professional football players during cardiovascular screenings. Such medical x-ray tests were conducted in Denver, Seattle, Austin, San Diego, Kansas City and Chicago.
The product may also be taken by children as young as age five, with a smaller dosing schedule than for adults.
Taken daily, BioShield-Radiation R2® is designed to protect those living close by or working at a nuclear power plant, those in the path of a nuclear radiation incident, aviation personnel, those exposed to dirty bombs, and certain healthcare/dental professionals who are in regular occupational contact with radiation. Some frequent flyers, firefighters and people who live or work amidst high levels of radon should also consider daily R2.
The Company has set aside 115,000 doses – or a four-month supply for 1,000 adults, to be shipped to workers and people living close to the crippled Fukushima Daiichi nuclear plant. The Company is working through appropriate diplomatic and business channels to gift the antioxidant micronutrient formulation to the Japanese people most seriously at risk for cellular damage due to radiation exposure.
"We are thrilled to be first to market to help satisfy an unmet consumer need," said PMC CEO Randy Looper.
BioShield-Radiation® is a comprehensive formulation of safe micronutrients; no prescription is needed to buy it. However, due to high demand, the product currently has limited availability and interested individuals are asked to restrict their on-line purchase (http://www.bioshieldpill.com) to no more than three bottles in one order.
# # #