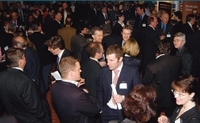 Financing Alternatives in a Challenging Economy: IPO, M&A and Other Non-Dilutive Financing.
(PRWEB) March 6, 2008
Continuing the success of last year, BioTrinity 2008 has already secured registration from over 150 companies. The biopartnering event, lead by Oxfordshire Bioscience Network (OBN) takes place between the 15th and 16th April in Oxford, UK. This year's agenda features an international panel of financial specialists in the biotech arena.
The panel will focus on "Financing Alternatives in a Challenging Economy: IPO, M&A and Other Non-Dilutive Financing." A topic particularly relevant given today's volatile financial market. Chairperson to the discussion is Karl Keegan, Managing Director, Head of Research (UK) and Global Sector Head of Life Sciences Research at Cannacord Capital. He will be joined by Niv Caviar, EVP, Chief Business and Chief Financial Officer, La Jolla Pharmaceutical Co, San Diego, California; Michael Bison, a partner at Goodwin Procter, Boston, Massachusetts; Mike Wort, Managing Director and Head of Investor Relations, De Facto Communications, London; and Patrick Baddley, Corporate Finance partner at Manches LLP, Oxford.
Other speakers at BioTrinity 2008 "Business Growth BioPartnering" include:
Charlie Alexander, Director of Business Development, Shire
Shaun Grady, VP Deal Management, AstraZeneca
Peter Nolan, SVP Commercial Development, Oxford BioMedica
Charles Potter, CEO, Glide Pharma
Robert Miller, CEO, Phynova
Mark Ashton, EVP Business Development, Evotec
Steven Lee, CEO, Summit plc
Tim Sparey, PhD, Merck Sharp & Dohme
Zina Affas, Principal (Life Sciences), Atlas Venture
Jeffrey Moore, Vice President, MP Healthcare Venture Management
BioTrinity is taking place on the 15th and 16th April Oxford, UK and provides the opportunity to view the latest presentations from the most promising companies from the UK's most successful biotech super-cluster in Oxford and the South East of England, in a format which offers private biopartnering rooms as standard.
More conference details are available online at http://www.biotrinity.com.
Gemma Ryan
De Facto Communications
Tel: +44 (0) 20 7861 3838
g.ryan(at)defacto.com
Notes to Editors:
BioTrinity 2008, 15-16 April 2008, Oxford, is the country's leading biotech biopartnering event. It will showcase the Southern UK's biotechnology super cluster, which leads the UK in attracting investment. Twenty-five of the most promising drug discovery and development, diagnostics and medical device companies have been selected to be featured in BioTrinity's Company Showcase with Pre-Clinical and Clinical Stage Developments featuring the region's drug pipeline. There are also: one-to-one partnering meetings, a licensing and spin-out technology showcase, an exhibition and a number of workshops. More conference details are available online at http://www.biotrinity.com.
OBN is the South East's leading biotech business network, catalysing the growth and development of the Oxford and the South East biotech and healthcare biotech super-cluster. Launched by Lord Sainsbury in 1999, OBN is a financially self-sustainable network which raises 99% of its operating costs from private sources and operational activity, as well as membership. In the past 8 years, OBN has delivered over 90 meetings, attracting thousands of delegates, most notably its trademark BioTuesday biotech business networking evenings and BioTrinity, its annual partnering conference. More information is available online at http://www.oxfordshirebioscience.com.
###