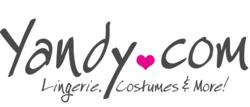 PHOENIX, Ariz. (PRWEB) September 07, 2012
Not typically synonymous with a traditional Halloween costume, Yandy.com, online retailer of costumes and lingerie, has seen shoppers flocking to resemble those fine feathered friends in new sexy bird costumes this 2012 Halloween.
Fairly new to the Halloween costume scene, Yandy's sexy bird costumes are gaining in popularity year over year. One costume that is sure to ruffle a few feathers is the Deluxe Sexy Parrot costume which features a red sequin corset, a matching skirt with attached, multi-color, full-length tail and macaw-inspired feather wings. Another new 2012 costume that is gaining steam is the Snowy Owl costume complete with white feather dress and owl feather mask.
While bird costumes are a growing trend, Yandy has seen an interest in them for years. Peacock costumes are always a heavy hitter and Yandy offers different styles in every price range starting at $24.95 for the basic to deluxe versions at upwards of $200. Yandy's menagerie of bird costumes includes everything from black swans to hummingbirds to flamingos and everything in between.
The early bird catches the worm because Yandy's sexy bird costumes have a tendency to fly off the shelves. Not only are there so many bird costumes to choose from, Yandy shoppers also receive free, flat rate shipping on orders over $70 and every order receives a free panty.
About Yandy.com
E-commerce is on the rise and Yandy.com is one of the largest online retailers of lingerie, sexy Halloween costumes, swimwear and clothing on the web. Founded in 2003, Yandy boasts more than 6,500 products always in stock at easily affordable prices. Yandy ensures that every customer will receive a safe, secure and private online shopping experience and is backed by COMODO online security and Google Checkout. Yandy is dedicated to customer service and only sells what is in stock which allows for quick, same day shipping. Offering the highest quality products at the most affordable prices in the market, Yandy has become a leader in ecommerce. Yandy works closely with all of the manufacturers they distribute for and hand select all of the items on the Web site to ensure customers have the largest and most diverse collection to choose from. In addition, the customer service team at Yandy is unrivaled. With attentive and helpful operators, should a question or problem arise, the customer service team at Yandy is always willing and able to assist. At Yandy, every customer can Be Sexy.
###