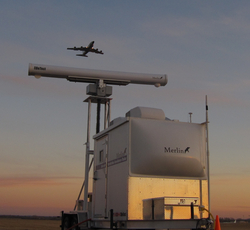 The fully self-contained, mobile military series MERLIN unit has a number of special features that include a Kevlar hardened electronics/technician cabin, redundant dual-range processors, dual power units, military desert paint scheme and Milspec off-road construction
Panama City, Florida (PRWEB) September 10, 2009
DeTect, Inc. today announced that the US Air Force has ordered a MERLIN™ Aircraft Birdstrike Avoidance Radar System for Bagram Airfield in Afghanistan. "The Bagram MERLIN system is the first use of bird radar technology in a war zone, another industry first for DeTect," commented Gary Andrews, DeTect's CEO.
The MERLIN SS200m system to be delivered to Bagram includes DeTect's new generation MERLIN SharpEye™ solid-state bird radar sensors that provide enhanced detection of hazardous bird activity out to 8 miles, 360 degrees around the airfield and in all weather conditions.
"The fully self-contained, mobile military series MERLIN unit has a number of special features that include a Kevlar hardened electronics/technician cabin, redundant dual-range processors, dual power units, military desert paint scheme and Milspec off-road construction," added Mr. Andrews.
The system will be deployed and operational by the end of 2009 and will provide, real-time 3-D monitoring of airspace around the airfield for hazardous bird activity providing automated bird strike warnings to air traffic controllers and pilots.
The US Air Force purchased its first MERLIN bird radar system in 2003 and has installed six systems at US air bases and ranges to date. The MERLIN system, originally developed for the US Air Force and NASA, is the most widely used bird radar technology in the world with over 50 units operating in the U.S., Canada, Europe, Africa and New Zealand for aviation safety and bird control applications.
DeTect specializes in radar technologies for bird detection, meteorology and airspace/marine surveillance and is headquartered in Panama City, Florida USA with offices in Arizona, California, Colorado, Texas and Washington, DC and in Canada and Germany.
###