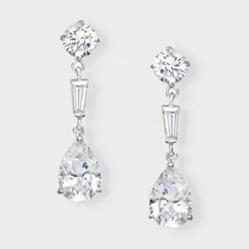 I could not be more pleased to once again have the opportunity to serve so many of our loyal customers, not to mention those who are discovering the value of CZ for the first time.
New York, NY (PRWEB) May 30, 2013
Birkat Elyon, world renowned cubic zirconia jewelry manufacturer, is proud to announce that 2013 CZ jewelry sales are on the rise year over year.
Founded in 1986, Birkat Elyon has been producing the world's finest cubic zirconia jewelry for more than 27 years. Using only the highest quality raw materials available, Birkat Elyon manufactures cubic zirconia with a purity level of 99.9%. Each stone is individually hand cut and polished with the same precision used by master jewelers when refining the world's finest diamonds. This unparalleled commitment to excellence makes it difficult, even for seasoned professionals, to differentiate Birkat Elyon's cubic zirconia from fine diamonds.
2013 is already turning out to be one of the strongest years in history, in terms of sales, for the cubic zirconia jewelry trade. Industry leaders, like Birkat Elyon, are experiencing what can only be described as a renewed consumer interest in CZ jewelry. More and more consumers are taking to the web to research and even purchase quality cubic zirconia jewelry. Like most industries, the cubic zirconia trade has faced hardships since news of the 2008 U.S. recession first broke. This recent surge in consumer interest surrounding quality, affordable diamond alternatives is indicative of a market wide rebound in CZ sales.
The entire Birkat Elyon family is excitedly preparing for what looks to be one of the strongest years in company history. With sales on the rise, as a result of renewed consumer interest, the Birkat Elyon jewelers are hard at work fulfilling orders from around the globe. From CZ engagement rings, to earrings and wedding bands; Birkat Elyon is catering to the needs of a swelling customer base.
"2013 is already shaping up to be one of the strongest we've ever experienced," said Rebecca Daniel, Senior Designer and Sales Director at Birkat Elyon in New York. "I could not be more pleased to once again have the opportunity to serve so many of our loyal customers, not to mention those who are discovering the value of CZ for the first time."
The sluggish global economy, in the years following the U.S. recession, has had a direct impact on consumer confidence. Many are instead looking for affordable substitutes for the luxury items they once enjoyed. Rising prices in the diamond and gold markets has prompted fine jewelry lovers to seek affordable alternatives, many of whom have turned to the expert craftsman at Birkat Elyon.
"There is nothing more delightful than introducing a jewelry lover to high-end CZ jewelry for the first time. The splendor and value of our products are often beyond even the highest of expectations," added Daniel.
The Birkat Elyon cubic zirconia jewelry collection is comprised of a wide selection of pieces, at varying price points; enabling them to cater to the individual needs of each and every consumer they serve. Also offering custom design services, Birkat Elyon truly offers something for everyone. As demand for high-end cubic zirconia continues to grow, Birkat Elyon plans to remain at the forefront of the CZ jewelry industry, as they have for nearly 3 decades.
With the close of the second quarter approaching, the Birkat Elyon team is gearing up for what promises to be a very successful year. Watch for more announcement, in the coming months, as Birkat Elyon continues to educate consumers about the value of high-end cubic zirconia jewelry. To learn more about the Birkat Elyon CZ jewelry collection, visit them online at http://www.Birkatelyon.com or call 877.777.8352 to speak to one of their talented jewelers.
About Birkat Elyon:
Birkat Elyon is an online luxury cubic zirconia jewelry manufacturer, specializing in 14K gold, 18K gold and platinum designs. Birkat Elyon has more than 20 years of CZ jewelry expertise. Located on Park Avenue in New York City, Birkat Elyon offers free wedding jewelry consultations for the selection of readymade designs, as well as for custom-made jewelry.