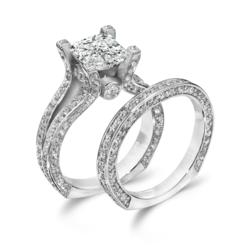 This is one of my favorite times of year, a time when we have the privilege to help couples find the wedding jewelry of their dreams, at a price they often cannot believe.
New York, NY (PRWEB) June 18, 2013
Birkat Elyon, acclaimed cubic zirconia jewelry manufacturer, is excited to once again have the opportunity to help brides and grooms prepare for yet another wedding season. Early sales numbers are already indicative of one of Birkat Elyon's strongest years to date as they help couples, from around the globe, select and even design their CZ wedding jewelry.
Founded in 1986, Birkat Elyon has since earned a reputation as the world's foremost manufacturer of fine cubic zirconia jewelry. Using only the highest quality Russian formula, Birkat Elyon cubic zirconia are of superior quality and brilliance. In fact, each stone is hand cut and hand polished with the same precision used by master jewelers when refining diamonds, a method which produces cubic zirconia with a purity level of 99.9%. This unparalleled commitment to quality gives Birkat Elyon cubic zirconia the look of fine gemstones, at a fraction of the cost.
With the 2013 wedding season now in full swing, the designers at Birkat Elyon are hard at work fulfilling orders from brides and grooms around the globe. Offering a complete collection of cubic zirconia engagement rings and CZ wedding bands, Birkat Elyon offers CZ wedding sets to meet any budget and compliment any style.
"It has been our distinct honor to help couples select and even design their wedding jewelry for more than 27 years," said Rebecca Daniel, Senior Designer and Sales Director at Birkat Elyon in New York. "This is one of my favorite times of year, a time when we have the privilege to help couples find the wedding jewelry of their dreams, at a price they often cannot believe."
One of Birkat Elyon's top sellers, yet again is this year, is a 2.0 carat princess-cut CZ engagement ring. This stunning piece is set in 14K white gold and is adorned with round stones pave-set on a split band. The matching wedding band also features pave-set round stones in a 14K white gold setting. A timeless piece that appeals to brides of all ages, the Birkat Elyon jewelers are fulfilling record numbers of orders for this CZ wedding set alone.
"Each year we see certain pieces grow in popularity, this one is however one of our most popular year after year," added Daniel.
In addition, the Birkat Elyon team is reporting a spike in orders for many of their classic solitaires as well as many of their designer inspired pieces. For those brides and grooms who have a particular style or look in mind, the master jewelers at Birkat Elyon are also working diligently to complete special orders. Offering a myriad of styles as well as special design services, Birkat Elyon is truly committed to satisfying each and every customer they serve.
Hard at work adding to their already expansive cubic zirconia wedding set collection, the Birkat Elyon team plans to cater to the needs of their customers for many wedding seasons to come. Watch for more exciting announcements in the coming months, as Birkat Elyon continues to set the standard for excellence in the CZ jewelry industry. To learn more about Birkat Elyon CZ jewelry, visit them online at http://www.Birkatelyon.com or call 877.777.8352 to speak to one of their talented jewelers.
About Birkat Elyon:
Birkat Elyon is an online luxury cubic zirconia jewelry manufacturer, specializing in 14K gold, 18K gold and platinum designs. Birkat Elyon has more than 20 years of CZ jewelry expertise. Located on Park Avenue in New York City, Birkat Elyon offers free wedding jewelry consultations for the selection of readymade designs, as well as for custom-made jewelry.
###